Tolaini's 2007 Valdisanti Toscana is one Super Tuscan that certainly lives up to the word Super. Deep, rich, and complex, the 2007 Valdisanti offers up heady black fruit and cassis aromas, all artfully infused with delicate spice tones. Intense, yet supple and layered, the 2007 Valdisanti is a joy to drink, even at such a tender age. It offers pure fruit flavors, subtle mineral tones, superb balance, and just the right amount of ripe tannin to ensure years of successful evolution. We fell in love with the 2007 Valdisanti Toscana and the critics have, too (it earned a 93 rating from The Wine Advocate), so supplies are extremely limited. In order for classic Italian red wines, such as the 2007 Valdisanti to shine, one cannot overstate the importance of aeration prior to serving. Therefore, let this beauty collect itself in a decanter for 30 minutes or more: you'll be glad you did. Va bene!
The 2007 Tolaini Valdisanti provides ideal companionship to a wide range of international fare as well traditional Tuscan specialties. One of our perennial favorite pairings with any first rate Super Tuscan is a marinated and grilled sirloin steak, served with a mushroom, chestnut, shallot, and green peppercorn sauce. Add a warm goat cheese potato salad and fresh haricots verts to the steak and watch Valdisanti really shine. Lamb provides another outstanding accompaniment to this wine. However, if meat is not in the offering, why not consider pairing the 2007 Valdisanti with a trio of starters that consist of a white bean paste, a red pepper hummus, and a black olive and sun dried tomato tapenade, all served with cristini and freshly baked focaccia? Yum! Rich pastas offer many tasty pairings as well. Buon Appetito!
Pierluigi Tolaini's story is not unprecedented in the world of wine. However, the meteoric rise of his wines is another story. Pierluigi Tolaini's story begins likes this: "when he left his Tuscan home as a young man for America he had a dream that he would make his fortune and some day return to Italy and settle down. His energy and relentless passion for excellence saw him build one of the most formidable transportation and logistics companies in North America. A half a century later Pierluigi returned home with the same drive and uncompromising standards that made him an industry icon in North America. This time his quest was to produce Tuscan wines that would be second to none. However, before he could realize this dream he would have to find the ideal site. After an exhaustive four year search he purchased vineyards in Montebello and San Giovanni, located in the prestigious Castelnuovo Berardenga zone of Chianti Classico. Here, the magnificent amphitheatre contoured vineyard would provide the requisite balance of climate, soil and exposure. Presently, Pierluigi makes four outstanding Tuscan wines. Three of his four superb offerings can be classified as "Super Tuscans," wines made primarily from traditional Bordeaux varietals. They are Al Passo, Picconero, and Valdisanti. Tolaini's fourth wine is his recently released Chianti Classico Riserva DOCG. Unfortunately, Italy's DOC and DOCG laws do not extend to Tuscan wines made primarily from Bordeaux varietals. Hence, all Super Tuscan offerings carry a IGT designation.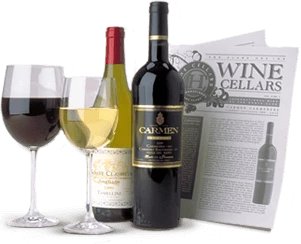 Enjoy Limited Production Estate
Bottled Wines
Discover limited production estate bottled wines such as Vergenoegd's internationally
acclaimed 2005 Cabernet Sauvignon, imported exclusively for our members.
DISCOVER OUR FOUR CLUBS