Jim Rowe's 2007 Pezzi King Old Vines Dry Creek Zinfandel is no wilting wallflower. It's a potent, highly extracted Zinfandel that weighs in at 16.1% alcohol, but you may not notice . . . until it's too late. Although deep and highly extracted, this Old Vine Zinfandel hasn't forgotten its manners. It offers up a captivating aroma of crushed black cherries, raspberries, and plums mixed with bramble and spicy wood tones – all of which follow through on the palate. Copious quantities of crushed berries, bark, and exotic spices fill the mouth and slip seamlessly and all too eagerly down the thirsty throat. All these flavors and muscle are carried by ripe tannins that mask the wine's powerful punch. In short, Pezzi King's 2007 Old Vines Zinfandel is a wine to be reckoned with, and enjoyed! Drink it now and over the next several years. We suggest serving it cool (60°-65°F) after affording it 10-20 minutes of aeration.
As the quintessential American varietal Zinfandel plays the perfect foil to hearty, stick to your ribs American fare. Consequently, why not serve the 2007 Pezzi King Old Vines Zinfandel with pulled pork that's been slow cooked in a thick spicy barbecue sauce with onions and served with homemade potato salad. Meat and potatoes with plenty of gravy; pasta served in a thick tomato sauce with olives and capers; meatballs and grilled Italian sausage; cheese tortellini; and roast pork with black olive tapenade are just a few of the many other accompaniments we like with Pezzi King's 2007 Old Vines Zinfandel. Good dark chocolate makes a splendid companion to this hearty Zin, too, especially when the chocolate is served at the end of a meal, but as you like it!
Jim Rowe, Sr. and his late wife Jane established Pezzi King Vineyards in 1993. They fell in love with a magical vineyard they discovered on a weekend trip from San Francisco and named it Pezzi King in tribute to their families by combining their mothers' names. They purchased the 137 acre estate nestled in the hills of Dry Creek Valley and immediately set about restoring the vineyard to its natural, unspoiled state by implementing all natural farming techniques. They also completely transformed the estate's old winery into a state of the art facility. Jim Rowe, Sr. had one mission for Pezzi King Vineyards, which he stated quite emphatically: "I wanted wines that would be considered among the best in the world. To accomplish this, I had to start with an excellent piece of land and add the right mix of talent and hard work. We're doing that at Pezzi King and we'll continue to strive for and achieve excellence in everything we do." Jim was good to his word. In the past five years alone, Pezzi King Vineyards has garnered over 20 Gold medals in wine competitions and its Zinfandels rank among the highest in the world. Pezzi King produces a large variety of tasty red and white wines, but Zinfandel has always been Pezzi King's greatest claim to fame. In fact, Pezzi King has traditionally fashioned up to five outstanding Zinfandels in any given vintage: Sonoma County, Estate Zinfandel, Old Vines Dry Creek (this month's feature), and a number of small lot or estate Zinfandels that are available only at the winery. Jim Rowe, Sr. recently sold his legendary winery, but we were fortunate to procure a small amount of one of Jim Rowe's legendary Old Vines Dry Creek Zinfandels. We hope you enjoy this full-throttle Zinfandel as much as we did.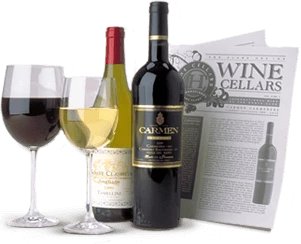 Enjoy Limited Production Estate
Bottled Wines
Discover limited production estate bottled wines such as Vergenoegd's internationally
acclaimed 2005 Cabernet Sauvignon, imported exclusively for our members.
DISCOVER OUR FOUR CLUBS