The 2006 Schatz Family Peltier Station Lodi Teroldego Reserve is nothing short of spellbinding. In fact, there is no other wine quite like it, at least not on this side of the Atlantic. Some of the more experienced panel members likened this unique offering to the extraordinary Piedmontese offerings of yesteryear, most notably the classic Gattinara and Spanna wines of legendary Italian winemaker Antonio Vallana. Crafted from a miniscule 2 acre vineyard on the Peltier Station property, this deeply colored Teroldego offers a complex bouquet of dried rose petal, cedar, dark Belgian chocolate and so much more. The aroma on this wine is sooo amplifying, that it's almost a shame to consume the luscious liquid that beckons the eager tongue, but alas why settle for half the pleasure? Just, don't be in too much of a hurry. The Schatz Family Reserve Teroldego is more Italian in style than American. Nothing will be gained through impatience; this unique beauty will unfold slowly in the glass over hours, revealing its innate charms – one captivating layer at a time. For optimal enjoyment, open this special, very limited availability offering a couple of hours ahead of serving at cool room temperature (60º-65º F) or better still, lay this wine down for at least two more years to gain further complexity. Enjoy!
Although we thoroughly enjoyed the 2006 Schatz Family Peltier Station Lodi Reserve Teroldego totally au naturel, we found it even more compelling with food. Consequently, we suggest you run to the best butcher shop in town in search of the most tender, flavorful veal chop you can find. Stuff it, grill it slowly, and serve it with a simple but flavorful Parmesan risotto. A savory leg of lamb studded with garlic and rosemary makes another winning accompaniment to the Schatz Family's most intriguing wine. Wood fired breast of pheasant, served in a complex cream sauce with gnocchi and shaved fennel makes for another exciting accompaniment. And for a quick and easy companion, why not consider a flatbread of roasted red pepper, caramelized onion, and Gorgonzola cheese? But why stop there?
Looking west, one can imagine the old grape packing sheds that once graced the tracks alongside Peltier Road. From the nearby station, thousands of tons of purple and white grapes departed in the "old days" for local wineries and the cellars of countless home winemakers. Today, the Schatz family of Peltier Station creates premium wines from the grapes which were once shipped eastward via the rusty old railroad tracks. Owned and run by Rodney and Gayla Schatz, Peltier Station is one of the brightest new stars in the resuscitated Lodi Appellation. Rodney and Gayla Schatz began Peltier Station Winery in 2002 with their first crush at the winery. They grow grapes and produce wine for numerous well-known wineries, both large and small. In addition, they craft a relatively small number of cases under their own name, with their most notable wines being Cabernet Sauvignon, Petite Sirah, Viognier, and a stunning Teroldego from a tiny two acre plot of old vines. Rodney Schatz hails from a tradition of grape growing families. His grandparents on both sides (the Marengo and Schatz families) were established growers in the 1950s, and Rodney and his wife Gayla have expanded on that tradition. In addition to cultivating some of Lodi's finest fruit, Rodney and Gayla make their own wine from estate grown grapes with the help of JC van Staden, a gifted young winemaker. JC van Staden is a very talented winemaker whose experience comes from growing up on a farm in South Africa and working with a number of prominent wineries in South Africa, France, and the United States in order to hone his craft, before coming to Peltier Station. JC's wines have earned Peltier Station numerous accolades and awards, including Gold Medal, Best of Class, and Best of Region winner awards at the prestigious California State Fair Wine Competition. The estate's flagship wine is the stunning Teroldego Reserve from a tiny 2 acre vineyard.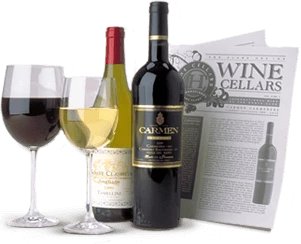 Enjoy Limited Production Estate
Bottled Wines
Discover limited production estate bottled wines such as Vergenoegd's internationally
acclaimed 2005 Cabernet Sauvignon, imported exclusively for our members.
DISCOVER OUR FOUR CLUBS