The 2009 Domaine William Fèvre Chablis is classic Chablis in every sense. It offers a bright sunshine-colored robe, replete with a characteristic glint of green, a fresh complex nose, solid concentrated flavors, and a long textured finish. With the first draught of Fèvre's Chablis rises a heady bouquet reminiscent of white flowers, oyster shell, lemon zest, and the faint but beckoning scent of the sea. Rich and concentrated in flavor, Fèvre's Chablis fills the mouth with a myriad of flavors drawn from the soil as well as the sea: one can taste the limestone rich terroir of Chablis poke through the orchard scents and citrus twists to enliven the mouth. Note the absence of oak! This is real Chardonnay, unadorned and reflective of its place of origin. And, although youthful and still in need of another year or more in bottle before reaching its apogee, Fèvre's 2009 Chablis offers exciting drinking now. We suggest giving this tasty Chablis an initial hard chill (35º-40º F) before pouring. Subsequently, allow it to warm a bit in the glass before tasting. One's first reaction to authentic Chablis, a supremely dry but elegant wine, can smack of austerity. No need to be put off. Not unlike its Pinot Noir counterparts from Burgundy's fabled hillsides, Chablis unfolds slowly and respectfully as it reaches toward a more ambient temperature. Delicious, textured flavors inevitably emerge and come to fore as Chablis warms. Balance, flavor, and a persistent finish should become its hallmarks. Enjoy!
A refined, truly dry white wine, Chablis serves as an aperitif extraordinaire as well as one of the planet's finest accompaniments to seafood. Among world renowned chefs and serious food aficionados, Chablis and seafood are virtually synonymous. Happily, the 2009 Domaine William Fèvre Chablis rises to its esteemed reputation. The fruits of the sea, especially shellfish, provide a vast array of gastronomic delights to accompany Fèvre's highly acclaimed Chablis. White fish grilled or in a light sauce offers classic companionship. However, for our money steamed lobster and King Crab legs, served with drawn butter, constitute our most memorable pairings with Chablis. Classic and equally gratifying are oysters, served raw, steamed or sautéed. In the company of the 2009 William Fèvre Chablis, clams, mussels, and scallops provide additional pairings to delight the senses. Caviar offers yet another impressive marriage. However, as tasty as seafood can be for those who gravitate to it and can eat it, the wonders of the sea need not constitute the sole partners to Fèvre's Chablis. Chicken and simply prepared game birds, served in light sauces, as well as creamy cow's milk cheeses offer splendid alternatives to seafood. Brie, Camembert, and other crusted cheeses offer superb accompaniments, too, and require very little preparation. Salut!
Domaine William Fèvre is one of the most prestigious names in all Burgundy. The name William Fèvre is practically synonymous with Chablis, the driest and most distinctive of white Burgundy wines, as Fèvre has been an ardent champion of the traditional wines of Chablis and the integrity of this prized appellation for more than a generation. Behind Domaine William Fèvre stands 250 years of winemaking in Chablis. Fèvre's father was one of the great winemakers of the post World War II era, and William Fèvre Jr. played an integral role in the recognition and resurrection of the Chablis appellation in the 1980s. In 1998 William Fèvre transferred ownership of his flagship estate to the capable hands of Henriot, the prestigious producer of Champagne Henriot. Henriot has retained consummate winemaker Didier Séguier who has brought Domaine William Fèvre to the top of its game. In 2010, Domaine William Fèvre was named to Wine Spectator's list of Top 100 Wineries. The illustrious Fèvre estate produces the region's entire gamut of white wines from St. Bris, a rare delicious white wine from Sauvignon Blanc grapes, to Petit Chablis, Chablis, Chablis Premier Cru, and Chablis Grand Cru. Moreover, William Fèvre owns the largest number of Grand Cru vineyards in Chablis. Come and taste authentic Chablis from Domaine William Fèvre.
Chablis is a distinct part of Burgundy as well as one of the world's finest white wines. Since the 12th century when Cistercian monks introduced Chardonnay into the region, the name Chablis has been synonymous with outstanding white wine. No wonder so many generations of California producers tacked the name Chablis onto their inferior generic wares, hoping to elevate their wines in the eyes of consumers. Today, all authentic Chablis is derived exclusively from Chardonnay grapes that are grown in Chablis' chalky, limestone rich soil known as Kimmeridgian. The name Kimmeridgian is in reference to an identical landmass that scientists identified in England's Kimmeridge Bay. Chablis possesses one of the world's greatest terroirs for the cultivation of white grapes; the appellation (A.O.C.) sits upon what was once the floor of an ancient sea bed dating from the Second Jurassic Period (also known as Kimmeridgian) that now feeds the region's Chardonnay vines. Because of this special terroir, Chablis yields unique, dry, mineral rich wines of considerable finesse and flavor. Consequently, most Chablis wines receive only minimal ageing in oak. The French National Institute of Appellation d'Origine Controlée (A.O.C.) recognizes four distinct areas of Chablis: Petit Chablis, Chablis, Chablis Premier Cru, and Chablis Grand Cru. All offer the taster a special experience. However, in recent years it is the Chablis appellation itself that has come to fore, producing some of the region's finest quality and value. In total, all four districts of Chablis cover just 7,000 hectares (15,400 acres). The best parcels typically occupy the region's hillsides, making such choice parcels in Chablis and the surrounding Premier Cru and Grand Cru vineyards the most apt to produce the region's fullest, most complex wines.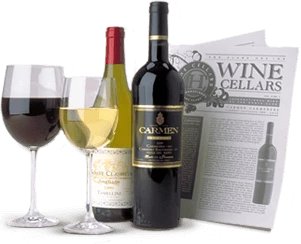 Enjoy Limited Production Estate
Bottled Wines
Discover limited production estate bottled wines such as Vergenoegd's internationally
acclaimed 2005 Cabernet Sauvignon, imported exclusively for our members.
DISCOVER OUR FOUR CLUBS