The 2005 Croze De Coninck Vineyards Napa Valley Cabernet Sauvignon displays everything one could hope for in New World Cabernet Sauvignon plus the finesse and balance of classified Bordeaux. Deep in color, impressive in bouquet, and rich on the palate, Gary Wooten's Croze Cabernet Sauvignon thoroughly captivates the senses. Scents and savors of blackberry, cassis, chocolate, coffee, wood smoke, and more pour from the glass and well up again in the wine's palate profile to fill the mouth. Powerful but smooth, this flavorful Cabernet blooms in the glass, becoming silky and seamless while never losing its rich velvety flavors. This is an exceptional single vineyard Napa Valley Cabernet that seems to have floated under most people's radar, and with good reason: less than 500 cases of this prodigious Cabernet were released. Enjoy the 2005 while it lasts!
A powerful, complex Cabernet Sauvignon, such as the 2005 Croze De Coninck Vineyards Cabernet Sauvignon, is ideally paired with equally rich, rewarding fare. A prime cut of filet mignon grilled over an open flame, lightly coated with wild mushroom sauce and served beside creamy mashed potatoes, is always a favorite selection with Cabernet Sauvignon. Braised lamb shanks provide another tried and true accompaniment. Or why not tap into the past of the Wild West and sample what sustained many Native American tribes and the earliest Rocky Mountain men, a low fat, nutrition rich, coffee crusted bison filet? If a vegetarian mood strikes, a spicy four bean chili fills the bill. And if you can't wait for dinner, an unadorned glass of the 2005 Croze Cabernet Sauvignon will surely not disappoint. For even more pleasure, add a piece of hand crafted dark chocolate and wile away the evening. Enjoy!
Croze is a small boutique winery in Napa Valley. To set the record straight, a croze is the groove inside of the end of a barrel or cask into which a head is set. Croze specializes in making exceptional hand crafted Cabernet Sauvignon, Cabernet Franc, Petit Verdot, and Sauvignon Blanc. Small quantities of excellent Syrah also flow from this diminutive winery. The mastermind behind this little Napa Valley jewel is Gary Wooten, winemaker extraordinaire. Gary Wooten specializes in Bordeaux style wines. Drawing fruit from several renowned vineyards, Wooten fashions racy, complex, full throttle Cabernet Sauvignon from De Coninck Vineyards. De Coninck Vineyards' grapes are certified organic and are renowned for their long hang time and exceptional quality. Wooten also produces a velvety single vineyard Cabernet Franc under the Smith Wooten label from Gallagher's Vineyard, a one and a half acre vineyard on Napa Valley's Silverado Trail. And then there is Wooten's classy Sauvignon Blanc, a textured, age worthy wine that could easily be mistaken for a first rate white Graves. Need we say more? The only drawback to this gem of a winery is its miniscule production, but when Croze says their wines are hand crafted they mean it. Increasingly, some of the very best California wines come from small, relatively obscure family wineries such as Croze who craft small lots of exceptional wines. Such boutique offerings are making a comeback in California amid the corporate giants that have come to dominate the world of wine. However, if your taste gravitates to these special offerings, you must not dally; small lots of fine wine disappear fast.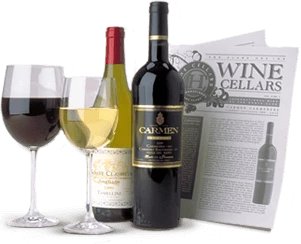 Enjoy Limited Production Estate
Bottled Wines
Discover limited production estate bottled wines such as Vergenoegd's internationally
acclaimed 2005 Cabernet Sauvignon, imported exclusively for our members.
DISCOVER OUR FOUR CLUBS