The 2004 Dominio de Tares Tares Pago 3 is a paragon of excellence and the finest example of the venerable Mencia grape variety we have ever tasted. It is also one of Spain's enological masterpieces. In 2004 Dominio de Tares fashioned from ancient vines a stunning Pago 3 that eclipses even this property's propitious and much heralded 2003 Pago 3. Furthermore, it can easily match and even surpass many of the finest wines from St. Emilion and Pomerol. The full-bodied 2004 Tares Pago 3 offers up copious quantities of black cherry fruit, smooth spicy oak, and an intensity that can only be found in fine wines from the greatest vintages (and the 2004 vintage in Spain is certainly one of the finest in recent memory). Plush, rich, and downright velvety, the 2004 Pago 3 marries gorgeous Mencia fruit to ripe tannins that gird the wine's voluptuous core. Moreover, this wine's superb balance and complexity make it ideal for current consumption as well as further ageing. Allow this masterpiece plenty of time to breathe; it will unfold in a glass or decanter for hours and dazzle the palate with long lush flavors. What greater evidence is there of the viticultural renaissance that continues to sweep Spain than the 2004 Dominio de Tares Tares Pago 3, a re-birth that has lifted Spanish wines to preeminence in world markets? Anticipated maturity: 2009-2016.
There is not a lot that the 2004 Dominio de Tares Tares Pago 3 needs to shine – a clean, thin, well-made glass notwithstanding. In short, Pago 3 drinks beautifully on its own, but it is even more impressive when brought to table to accompany some of the finest of foods. Lamb, beef, and pork all get our nod to accompany this magnificent red. An oak fired Angus Filet Mignon, served with a black peppercorn and onion sauce, provides wonderful companionship to this wine. A slow roasted Pork Shank with caramelized rosemary apples and polenta offers another great accompaniment. For a simple but no less wonderful accompaniment, we suggest Tetilla cheese. Tetilla is perhaps Spain's finest cheese. It is creamy, rich, and downright sumptuous – the perfect accompaniment to a great wine.
All of a sudden Bierzo is Spain's hottest wine region, and Dominio de Tares is its brightest star. Bierzo is situated in the extreme northwest of Castilla in the province of Leon, which lies on the frontier of Galicia and nearby Portugal. In other words, El Bierzo is deep in the middle of nowhere, but in the case of Bierzo "nowhere" harbors one of Europe's most interesting grape varietals and its land comprises one of the finest terroir for grapes in all Europe. This isolated, wildly beautiful region sits on the bed of an ancient lake, which the Romans drained in their quest for the area's mineral resources – namely gold. Today the Bierzo produces liquid gold in the form Mencia, an indigenous red gape variety that is presently taking Spain and the rest of the wine drinking world by storm. The Mencia varietal is considered by enologists to be the direct ancestor and precursor of modern Cabernet Franc. This unique grape variety hails from the plantings of the earliest Roman settlers in Bierzo, who planted this vine two thousand years ago in what remains one of Europe's most isolated wine regions. Certainly, it is the very isolation of the Bierzo that has allowed Mencia to survive and even thrive. Moreover, the average age of the vines in Bierzo remains quite old, which lends itself to the production of intense, high quality wines. Many of Dominio de Tares' Mencia vines from the tiny plot known as Pago 3 are 120 years old. The wonderfully fruity, spicy, and wholly intriguing Mencia grape has only recently been discovered, or rather re-discovered, by modern legions of wine drinkers. They are undoubtedly charmed and intrigued by this unique viticultural entity called Mencia, whose attributes are consummate with both modern Merlot and Cabernet but with a softer, more lush and exotic tone that bears comparison to the greatest Cabernet Franc based wines of Bordeaux's St. Emilion and Pomerol appellations. It is Mencia's re-birth and the contemporary emphasis on quality versus quantity in Bierzo that led to the formation of Dominio de Tares.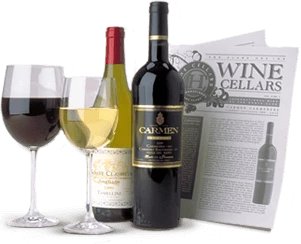 Enjoy Limited Production Estate
Bottled Wines
Discover limited production estate bottled wines such as Vergenoegd's internationally
acclaimed 2005 Cabernet Sauvignon, imported exclusively for our members.
DISCOVER OUR FOUR CLUBS