An intriguing concoction of Grenache, Shiraz, Mourvedre and Touriga (the deeply colored intensely flavored port varietal), the 2000 St. Hallett Barossa Gamekeeper's Reserve is a superb Rhone-style red. Deeply colored and amplifying in bouquet, the St. Hallett Reserve is thankfully one more successful vintage of the "Gamekeeper" from this great Barossa estate. Scents of cassis, kirsch and eucalyptus permeate the nose, while the mouth reveals a ripe, round flavor profile of black fruits which coat the mouth. Married to the soft, up front, in your face fruit is a good underpinning of tannin and alcohol, which add freshness and subtle complexity to the wine's finish. Like most vintages of St. Hallett's Gamekeeper's Reserve, this wine is wonderful to drink now, but will certainly continue to improve for another couple of years. Enjoy this lovely wine at cool room temperature or even lightly chilled (about 20 minutes in the bottom of the refrigerator. Although raring to go upon opening, 20-30 minutes breathing time certainly adds to the pleasure).
Call your friends, have a party…break out the grill, the 1999 St. Hallett Gamekeeper's Reserve is the perfect party time offering. Whether it be steaks, pasta or hamburgers on the grill, this personality filled offering from St. Hallett is the ultimate summer time red. Barbecued chicken or ribs provide fine complements, too. However, our ultimate favorite fare with the "Gamekeeper" is freshly made sweet Italian sausage, prepared with parsley, cheese and fennel-Grilled slowly over a glowing fire. Yum! The beauty of this wine is that it loves to please and requires neither muss nor fuss, so have a party, sit back and enjoy!
St. Hallett is one of the most respected wineries in Australia. As grape growers and winemakers in the Barossa for over fifty years, St. Hallett is committed to making wines of flavor, richness and drinkability. They produce wines that speak of their origin and the belief that wine is an integral part of the celebration of life. From grapes grown only in the soils of Barossa, St. Hallett makes wine in a variety of styles, using both the traditional methods of vinification, in "open top fermenters", to state of the art vinimatics and air-bag presses. The use of high quality American and French oak is an integral part of this winery's winemaking, especially for Semillon, Chardonnay, Shiraz, Grenache, Cabernet Sauvignon and Merlot. As makers of some of Australia's best Shiraz based wines, St. Hallett draws fruit from a number of the finest aged vineyards in the Barossa, many planted around the turn of the century. Low yielding they produce grapes of the highest quality that go into making single vineyard Shiraz and Reserve blends. Uniformly, St. Hallett wines are a reflection of the Barossa's ability to consistently produce wines of great flavor and personality.
The Barossa: South Australia's Premier Wine District The Barossa Valley, or "The Barossa" as it is known in the Land Down Under, is Australia's most important single area of wine production. Located in South Australia, a mere thirty-five miles from Adelaide, the Barossa is South Australia's oldest and most renowned wine region. Settled by Germans in the 1840's, the Barossa quickly became a source of both dry table wines and sweet dessert wines. Today, the Barossa is dedicated to all the best varietals Australia can muster: Shiraz, Cabernet Sauvignon, Merlot, Grenache, Chardonnay, Riesling and Semillon, but none is more profound nor renowned than the region's outstanding Shiraz. Henschke Penfolds, Peter Lehmann and St. Hallett are all located here, spreading the "good news" of Hermitage farms. From some thirty thousand acres of hill and dale come this nation's greatest claim to wine fame. The closest thing to a guarantee of wine quality in Australia is the name Barossa on the label.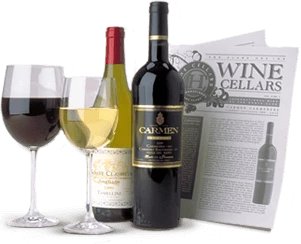 Enjoy Limited Production Estate
Bottled Wines
Discover limited production estate bottled wines such as Vergenoegd's internationally
acclaimed 2005 Cabernet Sauvignon, imported exclusively for our members.
DISCOVER OUR FOUR CLUBS