"This is the most delicious California Riesling we've tasted in years," commented one member of the tasting panel. " I usually don't like Riesling…it's too sweet and unbalanced, but this one I like…it's bold…but balanced," expounded another taster. Indeed, the 1999 Freemark Abbey Riesling is different from most California versions of this noble varietal. From its pale, golden-hued robe to its long, expressive finish, the Freemark Abbey Riesling smacks of ripe, succulent fruit, balanced by natural acidity. What mitigates the sweetness in this rendition is the 12% alcohol that lays body and power over ripe peach, pear and apple flavors, which seem infused with subtle hints of almond and spice. Drink this well-honed beauty moderately chilled. After one long drought of the Freemark Abbey, we bet we'll have a few more converts to this noble but often, mis-handled varietal.
All right, all right! We'll confess to enjoying the 1999 Freemark Abbey Riesling with a number of eclectic dishes. However, many of us really enjoyed this wine "au natural". It makes for a great aperitif, all by itself. Having said that, we do have a fondness for serving the Freemark Abbey Riesling with either caramelized pork or a glazed flounder. Vietnamese spring rolls and flavorful vegetable dishes also make outstanding complements to this wine, as do Chicken Dijon and most other poultry dishes. We've even enjoyed it with a Greek salad. Bon apetit.
Freemark Abbey, long known for its rich history and hand-crafted wines, traces its Napa Valley roots back to 1886 when a pioneering young woman named Josephine Tychson began producing wine in what was then known as Tychson Cellars. Not only was the winery among the first of the original sixteen wineries in Napa, but it was also the first to be built and operated by a woman. Tychson Cellars later became known as Freemark Abbey in 1939 under the ownership of three partners - Charles Freeman, Markquand Foster and Albert "Abbey" Ahern, who combined their names to reestablish the stone cellar facility following prohibition. After a succession of owners, Freemark Abbey was eventually purchased in 1967 by a seven family partnership of growers led by Chuck Carpy. With this new ownership, the renaissance of Freemark Abbey began. Marked by intimate knowledge of the land, the grapes and vinification techniques, this enterprising group reinforced Freemark's reputation as one of Napa's premier wineries. The wines were, and still are, crafted exclusively from premium grapes sourced from vineyards owned and operated by the grower-partners, thus ensuring a unified commitment to consistent, premium quality wine. Located in the most highly regarded sections of Napa Valley, their vineyards were carefully planted with the varietals best suited to the individual soils and microclimates. The result is fruit of excellent quality and superb varietal character…a hallmark of Freemark Abbey wines. Today, Director of Winemaking, Ted Edwards, keeps the pioneering tradition alive with an emphasis on vineyard management, as well as facility improvements. Mentored by Chuck Carpy, Ted has a clear vision for the winery that is shaped by its rich history, and classic winemaking style. Using a proven combination of superior grapes, state-of-the-art equipment and time-tested techniques, Freemark Abbey is able to create wines of uncompromising quality and taste. Barrel aging in French oak and subsequent bottle aging yields wines that are rich, flavorful and beautifully balanced. Unquestionably, Freemark Abbey's vineyards are among the best in California. James Laube of The Wine Spectator hales Freemark's Bosche Vineyard in the top ten in California. Consequently, it should come as no surprise that Freemark Abbey consistently turns out excellent Cabernet Sauvignon, Chardonnay and one of the few, very fine, truly pleasurable California Johannisberg Rieslings.
Johannisberg Riesling Riesling, or more specifically Johannisberg Riesling, to distinguish this varietal from the lesser Grey Riesling, is one of the oldest and noblest of all white wine grapes. From her shy bearing vines come all the classic wines of Germany: whether it be a fine delicate Mosel or a rich, concentrated and sometimes spicy wine from the Rheingau, it is Riesling alone that makes it great. In good years, the rare years, when the sun shines abundantly to fully ripen the grapes, slowly and until the leaves begin to color and fall from the trees, Riesling is the epitome of elegance, breed, fruit and sweetness; it is pure nectar. Although the exact origin of Riesling remains a mystery, we do know that the Romans brought viticulture to the steep hillside along the Rhine and Mosel and that since the dawn of the Christian era, man has tended vines in the high valleys beside the Rhine and its tributaries and each year, pressed the golden nuggets of the Riesling and its forebears into wine. Inevitably, Riesling has been transported through the ages to Austria, Yugoslavia, France, Switzerland, Italy, Australia, South Africa, the United States, and just about everywhere else fine wine is made. In nearly every bottle, Riesling is capable of producing a wide variety of "fine" wines, ranging from bone dry to the most luscious dessert wines.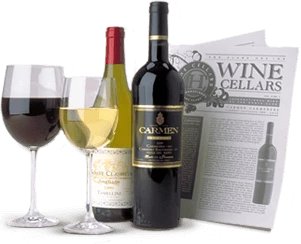 Enjoy Limited Production Estate
Bottled Wines
Discover limited production estate bottled wines such as Vergenoegd's internationally
acclaimed 2005 Cabernet Sauvignon, imported exclusively for our members.
DISCOVER OUR FOUR CLUBS