The 1999 Cranswick Estate Shiraz Merlot is a vibrant, medium-bodied wine that is packed with fruit and spice. Like the sun-drenched continent from which it comes this Shiraz Merlot reflects the vigor of the sun, much like the Syrah based wines of Provence. Black fruits, anise and pepper fold into robust fruit and firm tannins, making this wine a sure bet for current consumption, as well as a candidate for moderate aging. Although this 1999 Cranswick could legally be bottled as a varietal Shiraz (it's a blend of 85% Shiraz and 15% Merlot), the wines double billing more accurately describes it. The Cranswick Shiraz Merlot offers a healthy dose of extroverted Shiraz along with the round, fleshy, more feminine nature of Merlot. For most consumers the addition of Merlot with its soft, succulent qualities makes perfect sense; it allows the wine to be more readily enjoyed in its youth. Drink this lovely wine at cool room temperature for optimum enjoyment.
Steaks and chops, marinated meats and a host of grilled fare top our choices of accompaniments to the 1999 Cranswick Shiraz Merlot. Gourmet pizzas, and simple, hearty Provencal fare are some other winning combinations. The classic Provencal ingredients: tomato, olive oil, garlic rosemary and roast pepper all bring out the hedonistic side of this wine, allowing it to be equally at home with meat as well as vegetables and herbs. Full-flavored cheeses also provide happy drinking with the Cranswick Shiraz Merlot, especially if you care to accentuate the corpulent side of this wine. Enjoy.
Cranswick Estate is one of the most innovative and technologically advanced wineries in Australia. Devoted to the production of superior grapes that yield maximum flavor and extraction, this estate has pioneered many advanced viticultural practices, including special drip irrigation systems and alternate trellis designs for different grape varietals.& Over the past three decades such practices have dramatically advanced the quality of Cranswick's wines and allowed many small wineries in warm, arid climates throughout Australia to exploit excellent viticultural sites that were formally untenable. Originally begun in the 1970's, by Cinzano to produce dessert and fortified wines, Graham Cranswick-Smith and his Australian management team purchased this state of the art winery in 1991 and transformed it into New South Wales most important premium table wine producer in less than ten years. Cranswick has gained an international reputation for quality and consistency, and has garnered many national and international awards. Led by Graham Cranswick-Smith, Cranswick Estate has been called Australia's "export hero" for the seemingly insatiable international demand for the estate's wines. Currently, Cranswick is exported to 17 countries on four continents, including the UK, Europe, North America, Japan and the Middle East. Located in Riverina, New South Wales' largest and most important viticultural area, Cranswick has been dubbed "The Pick of the Riverina". Here, the quintessential Australian varietal, Shiraz is king. Recently, critics have ranked the Cranswick Estate in the top echelon of Shiraz producers. This may appear to some to be an unbelievable feat for such a young venture with modest beginnings and a notable penchant for sweet, white wines. However, the care shown in choosing the proper sites for Shiraz, natural slopes of terra rossa soil with a limestone base, coupled with attentive vineyard management and a substantial investment, has paid off handsomely for Cranswick - proof that wine is made in the vineyard. In addition to the mighty Shiraz, Cranswick produces top notch Merlot and Cabernet and will soon come on board with Grenache and Roussanne, two traditional Rhone varietals.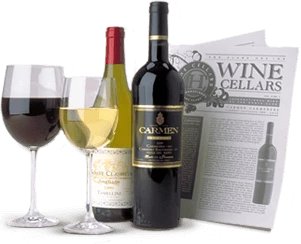 Enjoy Limited Production Estate
Bottled Wines
Discover limited production estate bottled wines such as Vergenoegd's internationally
acclaimed 2005 Cabernet Sauvignon, imported exclusively for our members.
DISCOVER OUR FOUR CLUBS