The 1999 Tolloy Pinot Grigio is a bracing, fairly full-bodied Pinot Grigio. The wine's lightly straw colored robe hardly prepares the taster for the true telltale flavors of Alto Adige Pinot Grigio: slate, mineral, almond and lemon zest. This is a more serious, traditional style of Pinot Grigio - not a modern fruit bomb. The Tolloy fills the mouth with a dry, pungency that follows all the way through to the finish. Serve this Pinot Grigio moderately well chilled (45-50° F).
Lake fish, appetizers and the cool, enchanted summer evenings of the Alto Adige are the traditional, accompaniments to the 1999 Tolloy Pinot Grigio. Indeed, perch, trout and all local freshwater fare provide perfect soul mates to Cantina Salorno's Pinot Grigio. But why stop there? Mussels, clams, oysters and shrimp all fit the bill equally well. In addition, vegetable pastas, cold chicken or tuna salads on a bed of complex greens, and simply prepared poultry fare are other fine choices. Enjoy!
The International Wine of the Month Club rarely features two wines from the same country in the same month but faced with two outstanding but very different white wines; one young, the other fully mature, we couldn't resist. The "land amidst mountains", as Alto Adige was referred to in past times, situated in the most northern part of Italy at the foothills of the Alps, is one of the most picturesque landscapes in Europe. An extraordinary abundance of contrasts characterizes the landscapes, vegetation, and people of the Alto Adige. The presence of the Alps, which protects the region from the cold winds originating from the north, and the influence of the Mediterranean climate, grant the ideal conditions for the extraordinary viiticultural variety that exists in the area. Where north and south meet, where the mountains enclose the Adige Valley, at the bottom of the valley and surrounding hills around the old village of Salorno, the wine of Tolloy is born. From nearly 280 acres of gentle slopes around Salorno, this Cantina produces first- class Pinot Bianco, Pinot Grigio, Pinot Nero and Merlot.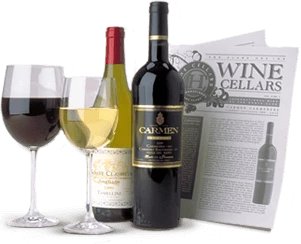 Enjoy Limited Production Estate
Bottled Wines
Discover limited production estate bottled wines such as Vergenoegd's internationally
acclaimed 2005 Cabernet Sauvignon, imported exclusively for our members.
DISCOVER OUR FOUR CLUBS