Pure, intense aromas of mineral, lemon grass, fig and ripe fruit dominate the bouquet of the 1998 Villa Maria Private Bin Sauvignon Blanc. A full-bodied, herb-tinged Sauvignon Blanc follows through in the mouth, pitting clean, rich fruit against crisp acidity. In the style of a great Sancerre, the Villa Maria sports a delectable long, flavorful finish that can hold up to just about any food you want to throw at it, or be perfectly charming on its own. Eschewing oak barrel aging, the natural flavors of Sauvignon Blanc, along with the distinctive "terroirs" of New Zealand's two best wine regions, shine in the 1998 Villa Maria Sauvignon Blanc. Kudos to the folks at Villa Maria for a knock-out beautifully balanced Sauvignon Blanc.
Oysters on the half shell, shrimp on the barbie, grilled chicken, pasta salads or just about anything else you care to throw at the 1998 Villa Maria Sauvignon Blanc is bound to please you. If you like Sauvignon Blanc, there isn't much you couldn't serve with the Villa Maria and be pleased, short of a juicy, red steak. Having said that, we have especially enjoyed a lightly breaded oyster dish as of late that is sautéed in herb butter and served over a variety of mixed greens. We found it to be a particularly fine accompaniment to the Sauvignon Blanc. But whatever you choose, make it something tasty - this wine deserves it!
Villa Maria Wines: An Overriding Desire to be the Best" In 1960, George Fistonich, the son of a Croatian immigrant, founded Villa Maria in Magere, Auckland. Voted New Zealand's Winemaker of the year in 1993, George is today the managing director of the Villa Maria Group, which also includes Vidal and Esk Valley Wineries; together they form the third largest wine company in New Zealand. Winemaker Michelle Richardson has been with Villa Maria since 1992. She has traveled extensively throughout Europe and Australia and in 1991 assisting winemaker Hugh Ryman with the French vintage. In 1997 Michelle, like George Fistonich, was voted New Zealand's Winemaker of the Year. Since 1996, her wines have taken Villa Maria to new peaks in quality. Steve Smith is the chief viticulturist for Villa Maria, having previously done research with wine industry guru Dr. Richard Smart. In 1996, Steve passed the demanding Master of Wine examination on his first attempt, becoming the first viticulturist in the world to achieve this honor. He often represents Villa Maria at international events and tastings. This team of dedicated vintners has placed its emphasis on high quality and good value. All the grapes at Villa Maria are either estate-grown or carefully sourced, and the winery was the first in New Zealand to initiate payment for grapes by quality. Villa Maria has won many awards for its wines in competitions across New Zealand and Australia and has been honored for its high standards of customer service and environmental responsibility.
New Zealand: The Other Land Down Under New Zealand produces wines that are the riches of a clean, green land. Without a doubt, New Zealand is the new frontier for wine discoveries, but such recognition has been a long time coming. Since the first vines were planted by missionaries in 1819, the winemaking history of New Zealand has been as rocky as the vineyards of Marlborough. Vineyards were planted during the 19th century, on the dryer eastern side of the islands, furnishing grapes for sacramental wines and for table grapes. Unfortunately for the wine industry, a temperance movement took hold in the 1860's and continued to effect the wine industry in New Zealand until after the end of World War II. Also, a serious threat from phylloxera and oidium (powdery mildew) during the latter part of the 19th century hindered the wine growers until it was offset by the introduction of American rootstocks which proved to be highly resistant to such blights. However, in the last twenty years the wine industry in New Zealand has gone in a new direction, moving toward bright, fresh wines bursting with flavor! Today, the emphasis is on quality rather than quantity; during the 1980's growers were encouraged to participate in a "vine pull", the removal of older varieties that were no longer popular, resulting in a 25% reduction in the total number of vineyards, and a great upswing in quality. The Appellations: Marlborough and Hawkes Bay Marlborough is the source of excellent Sauvignon Blancs. The area, first planted in 1973, is characterized by gravely soil, freely draining and covered with stones. With long hours of sunshine and cool nights, Marlborough is ideal for producing concentrated wines, full of ripe fruit, balanced with zesty acidity. Villa Maria sources grapes from over 25 dedicated growers that produce grapes with a diverse array of fruit characters. The wines are therefore complex, fruit driven wines. "Sauvignon Blanc is the grape variety which put New Zealand on the world wine map," contends Decanter magazine, and we heartily agree. The Hawkes Bay region is named for Admiral Sir Edward Hawke, First Lord of the Admiralty, and was much admired by Captain Cook whose voyage led to the discovery and chartering of New Zealand. This area, lying in the shadow of the Ruahine Range, has been compared with Bordeaux because of its similar climate and pockets of gravelly soils. The soils display much variation - from sand to loam to clay to gravel. A majority of the vineyards are found away from the coast in the dry, shingly soil of the river terraces formed by the intersection of three rivers that originate in the mountains. Villa Maria selects a large portion of its Sauvignon Blanc from Hawkes Bay to add softness and richness to the blends of this varietal. Villa Maria also selects Merlot and Cabernet Sauvignon grapes from Hawkes Bay, and after aging them in French and American oak for 18 months, crafts wines that are stylish and complex with rich fruit and tannins. Through masterful blending and meticulous care it is obvious to many in the industry that quality is paramount at Villa Maria Winery, thus Michael Cooper's comment in Cuisine magazine, "Villa Maria - an overriding desire to be the best".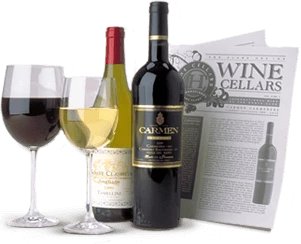 Enjoy Limited Production Estate
Bottled Wines
Discover limited production estate bottled wines such as Vergenoegd's internationally
acclaimed 2005 Cabernet Sauvignon, imported exclusively for our members.
DISCOVER OUR FOUR CLUBS