Sporting a forsythia yellow robe, clean, rich flavors and concentrated fruit, the 1998 Santa Barbara Winery Chardonnay is a clear stand-out from a superior growing region. Working with a harvest that was nearly three weeks later than normal, winemaker Bruce McGuire's decision to pick each individual vineyard sight at optimum ripeness, even at the expense of his own time off, is clearly evident in this highly polished Chardonnay. Scents of acacia, butter, and vanilla melt into the clean, suave fruit of this delicious wine, then linger on the palate for nearly a minute after swallowing. This highly acclaimed Santa Barbara Chardonnay was 100% barrel fermented in French oak, lending elegance and breed to the pure fruit of this classically wrought wine, without overpowering it. From a technical as well as a hedonistic point of view, the 1998 Santa Barbara Winery Chardonnay is one heck of a Chardonnay, worthy of all the plaudits it has received.
The emphatic, bright fruit of the 1998 Santa Barbara Chardonnay makes it a versatile wine with food. It pairs quite nicely with poultry and fish prepared in a variety of styles. Pasta with a white sauce and risotto are also two of our favorite foods with this stylish Chardonnay. Yet, any well-prepared, lighter fare will be enhanced by this lovely wine. A mixed salad with grilled chicken or tuna, topped with avocado, is another winning combination with this Santa Barbara Chardonnay; it recalls many a splendid lunch we have had in Santa Barbara, dining alfresco in view of the gleaming Pacific.
Santa Barbara Winery: Hand Harvested, and Hand Crafted In 1962, Pierre Lafond established Santa Barbara Winery, the first commercial winery in Santa Barbara County since prohibition. Inspired by friends known as "Mountain Drivers", a community of home winemakers that were famous for their bacchanalian harvest festivals, Pierre purchased grapes to produce wine sold at his wine shop in the Old El Paso district of Santa Barbara. Over the next ten years, when the viticultural promise of Santa Barbara County became apparent, Pierre Lafond shrewdly purchased his own Santa Barbara vineyard in 1970. Yet, he continued to operate the winemaking operation in downtown Santa Barbara. By 1981, the potential of the Lafond Vineyard, and Santa Ynez Valley in general, had been well established. At the time, an able winemaker, Bruce McGuire was hired to assume the winemaking helm of the Santa Barbara Winery - a position he still holds today. Over the last fifteen years, McGuire has transformed the Santa Barbara Winery into one of the finest premium wine producers in California - most notably for Chardonnay and Pinot Noir.
Lafond Vineyard As any visitor to Santa Barbara County can attest, there is no viticultural area more beautiful than the Santa Ynez Valley, home to Santa Barbara Winery's Lafond Vineyard. Here the faint morning light is obscured by heavy fog that settles in the vineyard. It protects the grapes from the first piercing rays of the sun and rarely lifts before mid morning, a magical moment when the sun illuminates the green hillsides with the purest of light. Later, the fog will roll in from the ocean and up the valley, effectively moderating the warm afternoon temperatures. All summer long the fog blows in and out of the lower Santa Ynez Valley, allowing the grapes to develop slowly and gently. The east-west orientation of the Santa Ynez and San Rafael mountain ranges form two valleys in Santa Barbara County that act as funnels for the cool air coming in from the Pacific. This unusual geographic feature doesn't occur anywhere else in North America. The resulting cool comate is the defining characteristic for the lower Santa Ynez Valley, where the Lafond Vineyard is located, just 18 miles from the coast. This proximity to the ocean ensures a temperate winter, allowing the grapes to develop over a longer period of time, resulting in rich balanced flavors in the grapes. Southerly latitude protects the vineyard from early winter storms that can threaten October and November harvests. Santa Barbara Winery's 30,000 case production highlights the Chardonnay and Pinot Noir for which the Lafond Vineyard is particularly well suited. The winery is also well known for a number of other varietals that benefit from a long, cool growing season. The winery's Viticulturalist, Jeff Newton, uses canopy management techniques and careful clone selection to produce fruit that exhibits concentrated flavors and results in wines that are distinguished by their regional character. The Lafond Vineyard provides the soul for Santa Barbara Winery's outstanding Chardonnay and Pinot Noir.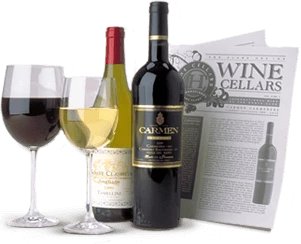 Enjoy Limited Production Estate
Bottled Wines
Discover limited production estate bottled wines such as Vergenoegd's internationally
acclaimed 2005 Cabernet Sauvignon, imported exclusively for our members.
DISCOVER OUR FOUR CLUBS