Distinctively styled in the classic French Sancerre style, the 1998 Dry Creek Vineyard Fume Blanc is unquestionably the benchmark by which all other California Sauvignon Blancs are measured. Exhibiting the scents of freshly mown grass, herb, lemon grass and grapefruit, this delicious Sauvignon Blanc is beguiling in every way. Clean and fresh on the palate, it combines herb, fig and hints of gun smoke, along with a touch of cream and vanilla. Finishing with a wonderfully crisp aftertaste, it never abandons its rich flavor or full mouth-feel. Perfectly balanced and varietally intense, this Dry Creek Fume Blanc is nearly perfect in every way. It combines the highest attributes of stainless steel and oak barrel fermentation: rich, intense varietal flavors and perfect balance. Produced from 100% Sauvignon Blanc, this magnificent Sonoma County Fume Blanc was aged in both oak barrels and stainless steel. Not surprisingly, it has already won accolades from critics and garnered several gold medals in national competitions. Many renowned French Sancerre and Fume Blanc should take note of this outstanding Fume Blanc; it puts most of its overpriced French counterparts to shame. A votre sante!
Oysters, shrimp, clams, scallops or lobster, or just about anything else with a shell on it that comes out of the sea, is a sure bet with the Dry Creek Fume Blanc. Herb-tinged chicken or full-flavored fish dishes are some other winning combos with this exquisite Sauvignon Blanc. Hors d'oeuvres, caviar, or subtle sipping provide several other complements to David Stare's award-winning Sauvignon Blanc. Crusted cheeses and mild chevre also make fine accompaniments to this wine. In fact, the wine's varietal flavors, unencumbered by massive oak ageing for the resulting vanilla and splintered wood flavors, provide a background to a lot of happy imbibing–with or without food.
Dry Creek Valley Pioneer: David Stare A dramatic wave of change occurred in 1972 when David S. Stare opened the doors of Dry Creek Vineyard, the first new winery to be built in Dry Creek Valley since Prohibition. Guided by a new vision for this long neglected grape growing region, his initiative launched a whole new era of premium wine production. Dry Creek Vineyard's leadership role under Stare has inspired many important changes for Sonoma County. Sonoma County's first Fume Blanc was created there. New standards of quality resulted from the winery's advocacy for Bordeaux style blending, as opposed to the use of only a single grape varietal, then in vogue. And, perhaps most importantly, appellation status for the entire Dry Creek Valley originated at Stare's winery, no mean feat for a young MIT graduate who decided in 1971 to chuck his secure, but unfulfilling career as a civil engineer and move to California. Unlikely as it may seem, Stare, a Bostonian, became the Dry Creek Valley Pioneer. Beginning in 1972 with a single parcel of land, a run-down prune orchard on Dry Creek Road, David Stare planted his first forty acres of grapes. Putting in mainly Sauvignon Blanc, Chenin Blanc and Chardonnay, Stare was laughed at for his folly. The locals thought he was nuts and one farm advisor is reputed to have uttered, "Sauvignon Blanc will never grow successfully in Dry Creek Valley." Today, Fume Blanc (Sauvignon Blanc) is the flagship wine of Dry Creek Vineyard. The winery's Chenin Blanc and Chardonnay also rank in the top echelon of California wines. So much for the naysayers, and so called experts. Stare's original production goal for Dry Creek Vineyards was 20,000 cases, a rather ambitious undertaking in its day. Today, Dry Creek Vineyards produces nearly 120,000 cases of premium wines with the able assistance of winemakers, Larry Levin and Jeff McBride, Vineyard Manager, David Bevill and David's daughter, Kim, and son-in-law Don Wallace. The latter constitute the marketing personnel. Aside from his personal accomplishments at Dry Creek Vineyards, Stare has been a leader and advocate for Sonoma County wines. He has left his pioneering spirit and entrepreneurial mark on a number of important organizations. Certainly, his ability to obtain BATF approval for the creation of Dry Creek Valley as an American Viticultural Area, or Appellation, in 1983 was in itself remarkable, but David has also helped found an important regional organization for area growers called Wine growers of Dry Creek Valley, an organization that now counts at least 110 members. He was also a founding member and past president of the Sonoma County Wineries Association, one of California's most important advocates for quality wine production and promotion. Stare is also credited with the development of Winery Associates, a consortium of premium wineries that have joined together to joint-market their wines. This has proven to be one of the most successful marketing groups in California. Winery Associates presently counts five Sonoma County wineries, Alexander Valley Vineyard, Dry Creek Vineyards, Murphy-Goode, Pedroncelli and Quivira. Flora Springs in Napa Valley is also a member client. Together they constitute a formidable group of quality wineries, devoted to outstanding quality at affordable prices. How we wish more California wineries would emulate the quality of wines and intelligent marketing strategies of this group. As if David Stare's resume would be incomplete without it, he has also been an early supporter of the Meritage Society in California and a founding father of the Society of Blancs (SOB's), an organization that extols and promotes the virtues of the noble Sauvignon Blanc varietal in California. Many thanks to Stare for his indefatigable efforts on behalf of Dry Creek Valley, and premium California wines.
Sailing, Selling and Stare Sailing has always captured the imagination and evoked the passion of adventuresome souls, so it should come as no surprise that David Stare's other true passion is sailing. He is the skipper of a 35' Pearson sailboat, which serves as the icon and label-motif for Dry Creek Vineyard wines. "This is no gimmick," say those who know Stare. He is a serious sailor who participates in many sailing regattas around the world, at the same time he promotes his daunting array of wines in dozens of markets, including many foreign countries. In addition to the promotion and marketing that sailing affords the winery, it also reflects the true love and passion of the first family of Dry Creek Vineyard. In the words of Mary Jo Chrism, the winery's Communications Director; "Sail boating, even for people who don't have a boat or sail, gives a positive, serene feeling and that translates into Dave's fun-loving and down to earth spirit and passion, and to the wines." It also exudes competence and direction, two commodities we often find lacking in many other wineries. Kudos to David Stare for staying the course.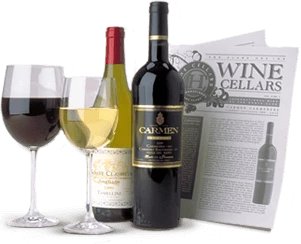 Enjoy Limited Production Estate
Bottled Wines
Discover limited production estate bottled wines such as Vergenoegd's internationally
acclaimed 2005 Cabernet Sauvignon, imported exclusively for our members.
DISCOVER OUR FOUR CLUBS