The 1997 Villa Puccini wears a regal, ruby robe and exhibits a complex bouquet of violets and cherries. In the mouth, the wine feels like velvet, demonstrating the benefit of a twelve-month respite in Slavonian oak. Yet, none of the blackberry, cherry or plum fruit inherent in the wine is lost nor are the subtle nuances of spice, leather and pepper that fill the mouth and culminate in a long, lovely finish. All of this is testimony to the care afforded the Villa Puccini and the greatness of the 1997 vintage in Tuscany. Simply, the 1997 vintage should rank as one of the top five vintages of the past century in central Italy. Enjoy this Super Tuscan now and over the next three years.
Like so many of Tuscany's finest wines, the 1997 Villa Puccini is at its best amid the simple elegance of Tuscan cooking. Simple, natural foods that are either roasted or grilled, served in the company of the freshest produce and "alio", are the perfect backdrop to Villa Puccini. Chicken, game hens, squab, and ribolita (the Tuscan version of a bean cassoulet) all make for fulfilling accompaniments to the Villa Puccini. Spring lamb, coated with extra virgin olive oil and fresh rosemary and thyme, is another award-winning combination and of course, the unpretentious but very flavorful Florentine Steak cuts a fine form with this lovely "Super Tuscan". Moreover, we have enjoyed this wine with thin-crusted Tuscan pizzas and light pasta dishes. However, for optimum enjoyment, skip the heavy, very un-Tuscan, American-style tomato sauces with the Villa Puccini; this wine deserves more finesse and grace than the thick, acidic marinara many Americans believe is synonymous with Italian food. Enjoy!
Villa Puccini is the handiwork of Stefano Mailli, the gifted and highly acclaimed winemaker at the pretty Burchino Estate. Owned by Piergiorio and Roberto Castellani, Tuscany's prominent and prolific producers of Chianti, the individual Burchino Estate fashions small quantities of two excellent Chiantis and approximately 10,000 cases in fine vintages of Villa Puccini Tuscan Red, the estate's flagship offering. Using only grapes grown on the mid slopes of south-facing hills, Villa Puccini "Super Tuscan" Red is testimony to the talent and innovation we have come to expect from this fine estate. Villa Puccini has been created to embody the traditions and innovative spirit of Tuscany. Only select clones of Sangiovese Grosso, harvested from the Montalcino area in the Siena hills, are used in this Super Tuscan. The typical "cepage" is 90% Sangiovese married to an addition of 10% Merlot. Together the wine is patiently aged in Slavonian oak barrels for a year or more, depending on the vintage. Further bottle ageing is then done at the winery before Villa Puccini can be released for sale to the public. In traditional Tuscan fashion, Villa Puccini is a dry wine that embodies the best characteristics of Chianti Classico and St. Emilion (the area of Bordeaux known for its superlative Merlot based wines). And, like all red wines of character, Villa Puccini will continue to mature in the bottle for a number of years.
Sangiovese: It Was Old Before Rome Was Born Before the rise of the Roman Empire, there was Sangiovese. Native to Tuscany and central Italy, Sangiovese was fashioned into fine wine by the surprisingly sophisticated Etruscans, centuries before Caesar went forth with the Roman tongue and hedonistic bent for guts and glory that lend their name to this noble varietal. The etymology of Sangiovese, "Sangue di Giove" means "blood of Jupiter", an indication of the power and grandeur attached to this grape. Today, Sangiovese remains one of Italy's most important grapes, producing Brunello de Montalcino and providing the basis for Chianti, Chianti Classico, Vino Noble de Montepulciano and the myriad of "Super Tuscans" that have come to fare since the 1980's. Because of this grape's propensity to generate closely related mutations, there are a number of clones of the mighty Sangiovese that are close enough relatives to be considered Sangiovese itself. The Sangiovese Grosso and Brunello clones are widely considered by eonologists and consumers alike to be the best clones of Sangiovese, and rightfully so as these clones produce the most complex and fulfilling of all Sangiovese based wines. Although hundreds of thousands of acres of Sangiovese are presently planted throughout Italy, much of it as far north as Piave and Fruili, the very best Sangiovese still comes almost exclusively from Tuscany, where the preponderance of Brunello and Sangiovese clones are cultivated. Like all great varietals, styles vary widely, ranging from fresh, light and young to more concentrated barrique-aged cosmopolitan versions such as Villa Puccini. And, unlike other noble varietals, like Cabernet Sauvignon, most Sangiovese wines can be perfectly enjoyable young. Even the great Sangiovese that can age well and improve for many years in the bottle offer considerable pleasure before their fifth birthday.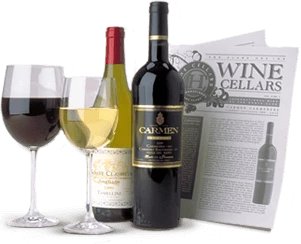 Enjoy Limited Production Estate
Bottled Wines
Discover limited production estate bottled wines such as Vergenoegd's internationally
acclaimed 2005 Cabernet Sauvignon, imported exclusively for our members.
DISCOVER OUR FOUR CLUBS