Wildflowers and the faint smell of honeysuckle mark the aroma of fine Viognier, and the 1997 Sobon Estate Shenandoah Valley Viognier is no exception. Beautiful, rich fruit caresses the nose, while light floral tones run across the palate, giving the wine an ethereal, but not unsubstantial quality. Almost in spite of its delicacy, this Viognier's pure, easy drink flavors pack a punch - this is no wimpy wine. It weighs in at over 13% alcohol, but that's hardly noticeable in flavor. The Sobon Estate Viognier is one of the most elegant wines we have tasted in quite a while. It combines delicacy, finesse and flavor - all in one delicious format. Undoubtedly, Sobon's success with the rare, finicky Viognier grape is one reason the future bodes so well for the varietal in California, and in the Shenandoah Valley in particular. Serve this wine chilled, as you would any white wine, and then allow it to open up a few minutes in your glass. You'll be surprised at the gamut of scents and flavors you garner in a single sip.
Although pork is the traditional fare served with Viognier in France, it is a very versatile grape. It marries well to most fish and light meats, and it can even stand up to pepper steak and more exotic dishes that contain a touch of the Orient. In fact, any meal that you would serve a Chardonnay with, would go equally well with the Sobon Estate Viognier. However, one of our favorite food pairings with this Viognier is a mild seafood platter, consisting of shrimp, prawns, lobster and grilled salmon. Another favorite of ours is to serve this Viognier as an aperitif, accompanied by caviar on a plain cracker and a selection of lightly smoked salmon with capers. Soft cheeses and fresh fruit, especially ripe peaches and pears, are another winning combination. Enjoy!
Sobon Estate: Shenandoah Valley's Pride The Sobon family has been active since 1977 in winemaking and viticulture at their Shenandoah Vineyards site in the historic Shenandoah Valley of California. In 1987, they quintupled their vineyard holdings with the acquisition of the former D'Agostini winery. This new property, aptly named Sobon Estate, continues the family's firm commitment to making the best Zinfandels in the state with a series of old vine and vineyard designated releases while at the same time expanding the role of Rhone varietals. It is located in the popular Motherlode county of Amador County at a high elevation, (approximately 2000 ft. above sea level). After extensive varietal and clonal experiments, Leon Sobon has determined that soil, climate and topography make this area the ideal site for growing traditional Rhone varietals; Syrah, Viognier, Marsanne, Roussanne, Cinsault, Mourvedre and Grenache. The plantings, which began in the mid 80's are now some of the most robust and vigorous Rhone style vineyards in the state and the demand for cuttings from these remarkable vines (from fellow vintners and growers to propagate new vineyards) is almost as great as the demand for the intensely flavored, highly concentrated grapes they produce. The wines themselves pay tribute to the great traditional winemaking of the Rhone appellations of France. The Sobon Estate Viognier is the result of a meticulously managed rare 100% organic vineyard. Low yields are essential; crop thinning is extensively employed to maintain this objective and assure an intense floral wine to match any Condrieu. Condrieu is of course, France's most renowned Viognier wine. The estate's Syrah, situated on a 30 degree north-facing slope, basks all summer long in the most glorious sunshine and is cooled by brisk evening breezes rising up the hill. Again, low yields are the norm. At Sobon, they have the additional advantage of having both the Hermitage clone and the Shiraz clone for Syrah planted almost 50/50. They are harvested and fermented separately giving a unique opportunity to produce a Syrah of almost unprecedented strength and complexity. With approximately 35 acres dedicated to Rhone varietals and total case production under 3,000, the Rhone style wines are very limited and often sell out very quickly. The remainder of Sobon Estate is still primarily Zinfandel. These vines, planted prior to prohibition, are all head pruned, dry-farmed and like their Rhone cousins, are 100% organic. The Sobon have designated certain site specific vineyards such as the now famous "Rocky Top", "Cougar Hill" and our old Fiddletown vineyard - "Lubenko" as special, very limited releases. The fruit from these vineyards is among the most intense ever harvested. Selected and picked by hand, these wines show a dimension and degree of complexity of incredible proportion. The key of course, are these vines' proclivity to produce tiny crops, sometimes under two tons per acre. The remainder of the estate's Zinfandel goes into an exclusive Zingiovese, a blend of Zinfandel and Sangiovese (the Brunello clone). The Sangiovese is planted on old lava flow and because of the soil and low yields, produces one of the most extracted Sangiovese in the state. In short, Sobon produces small quantities of wines that are both exquisite, as well as exclusive.
Organic Farming and The Sobon Family Wines In 1989, the Sobon family made the decision to start farming organically. After a winter of much research, the following spring they saw the start of their new endeavor; they have never looked back. In 1994, they registered with the County Agriculture Commissioner and the State of California as organic growers of grapes and walnuts. Presently, they farm 125 acres without herbicides, pesticides, or chemical fertilizers. All Sobon wines, both at Shenandoah Vineyards and Sobon Estate, are made by conventional means using a minimum of sulfites to preserve freshness and color. At bottling, their wine contains between 15-20 parts per million free sulfites, which diminish after several months in the bottle. These are some of the lowest sulfite wines we have encountered. Wines with no added sulfites can contain 8-12 parts per million of sulfites - a natural product of fermentation. These are extremely rare - particularly white - wines. Sobon believes the small amount of sulfites they use are necessary to maintain the freshness, stability, age ability and enjoyment of their wines. We agree. Such minimal amount of added sulfite is beneficial and should pose no health risks. In fact, most raw fruits and vegetables contain far more sulfites than Sobon wine. All of Sobon Estate wines are made with their own organically grown grapes. Three of their growers use their IPM techniques which is the next best thing, but technically not organic. Those grapes are blended into the Shenandoah Sauvignon Blanc and the Zinfandels, but not into the other varietals. All other wines are made with 100% organically grown grapes. Kudos to Lee Sobon and his family for such healthy, beautifully wrought, natural wines.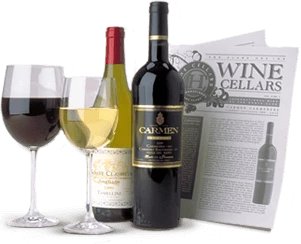 Enjoy Limited Production Estate
Bottled Wines
Discover limited production estate bottled wines such as Vergenoegd's internationally
acclaimed 2005 Cabernet Sauvignon, imported exclusively for our members.
DISCOVER OUR FOUR CLUBS