The 1997 Rodney Strong Merlot wears a regal, ruby robe that portends the wines heaven scents and lush, velvet flavors. Ripe, round berry aromas, mingled with anise, spice and bark spring from the glass. Full and rich in the mouth, this Rodney Strong Merlot combines the textbook Merlot flavors of berry, chocolate and spice with the suavity of clean oak. Generous, fulfilling and a pleasure to drink, this wine puts many more expensive, big name Merlots to shame. It also makes us wonder why consumers continue to pay exorbitant prices for mediocre, overly manipulated and over cropped Merlots, especially when they don't have to. The folks at Rodney Strong deserve strong praise for their Œ97 Merlot, as well as many previous efforts, which consistently offer the consumer some of the most delicious Merlot on the market. Enjoy!
Spring lamb is the first dish that springs to our mind. The rich velvet flavors of the Rodney Strong Merlot offer the perfect accompaniment to tender, juicy morsels of a young roast leg of lamb. Another wonderful accompaniment to this delicious Merlot is a honey-glazed ham, complete with carrots in a raspberry sauce. This dish brings out the rich fruit in the Merlot, while the natural smokey, spiciness of the ham and the wine melt in your mouth. For a mouth filling, meatless dish, we suggest you try the Rodney Strong Merlot with a homemade three cheese lasagne in a tomato cream sauce. And, if you're a real gourmand, you could have all three dishes as separate courses in one sitting. Now, that would be a meal! For the slightly more moderate among us, we confess that we have enjoyed this award-winning Merlot with a simple plate of fresh fruit and soft cheeses. "As you like it."
Rodney Strong Vineyards: Founded on the Recognition of Sonoma County's Potential for Excellence Rodney Strong Vineyards was established in Sonoma County in 1959, long before most of the world had even heard of Sonoma County, let alone knew where it was. Beyond Rodney Strong's choice of location lay a simple philosophy that still prevails. The finest wines can only be crafted from the highest quality grapes. Rodney Strong Vineyards was founded on the recognition of Sonoma County's potential for excellence. With its magical combination of soil and climate, Sonoma County is home to vineyards that produce a range of cool to warm climate grapes that are among the finest in the world. That's why when Rodney Strong Vineyards found Sonoma County, they knew they had found home. Through decades of grape growing and winemaking, they continue to fulfill the promise of this fine land. Their approach is for the grapes from each vineyard and growing region to express their intrinsic character in the special wines they create. Control of many legendary Sonoma County vineyards, in combination with a gifted winemaker and a state-of-the-art winery, assures consistent style and quality from year to year. Gentle handling, careful use of barrel, and stainless steel fermentation and proper oak ageing are all guided by master winemaker Rick Sayre who gently crafts the natural characteristic of superior fruit into some of California's tastiest and most talked about wines. Today Rodney Strong Vineyards owns and farms many exceptional vineyards in Sonoma County's prime grape growing appellations where the estate's critically acclaimed Chardonnay, Cabernet Sauvignon, Merlot, Pinot Noir, Sauvignon Blanc and Zinfandel are grown. Chalk Hill, Alexander Valley, and the Russian River Valley are some of California's most important viticultural areas and the primary sources of both Rodney Strong's estate bottled wines and the excellent Sonoma County offerings bottled under their name. Many thanks to the proprietors of Rodney Strong Vineyards, the Klein Family Vintners, and Rick Sayre, the winery's masterful winemaker, for a bevy of ripe, delicious wines that always seem to please.
Rick Sayre: In the Footsteps of a Legend Rick Sayre began his winemaking career in 1970 at the age of 19 as assistant winemaker and cellarmaster at Simi Winery. Today, he is Winemaker at Rodney Strong Vineyards. Rick is responsible for all aspects of winemaking, from vineyard management through final blending of the wine. In the early days at Simi, Rick worked under the direction of the world-renowned Andre Tchelistcheff, the man largely responsible for the first world class Cabernet Sauvignon wines in California in the 1950's and 1960's under the BV Georges de Latour Reserve label. Tchelistcheff also pioneered Merlot in California. It is to his icon that Sayre's attributes his passion for the art and his desire to master the craft. Always a perfectionist with an eye for detail, Rick applies these traits to making fine wine. "It's so important to be aware of everything," he says. "Andre taught me that a winemaker must live with his wine. Even the smallest details can have an effect. I take great satisfaction in having everything come together to create a product that is so enjoyable." Rick practiced hands-on winemaking at Simi, learning his craft from the bottom up. He did everything from weighing the trucks that came in overflowing with the harvest to corking the bottles in the winery's hand-bottling line. During his tenure there he was privileged to work with other well-known winemakers, including Robert Stemmler, Maryann Graf, and Zelma Long. Rick joined Rodney Strong Vineyards late in 1979. In 1980, he designed and managed construction of the winery's modern barrel handling system, where premium wines are aged with efficiency and control. He also began shifting his attention to the viticultural aspects of winemaking, and has become familiar with the special characteristics and idiosyncrasies of Alexander's Crown, Chalk Hill, and the winery's other estate vineyards through 20 growing seasons and harvests. 'Consistency of style starts in the vineyard,' says Rick. Rick has expanded his winemaking experience with several trips to France, where he studied the interplay of oak and wine. After visiting many of the French cooperage houses, he decided to bring their barrel toasting techniques back to the States and became the first winemaker in California to install an in-house cooperage specializing in the toasting of American oak barrels. "Winemaking is a never-ending challenge," says Rick. "There's always more to explore!" We wish him a long and happy adventure.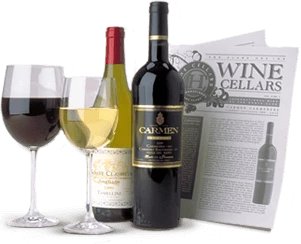 Enjoy Limited Production Estate
Bottled Wines
Discover limited production estate bottled wines such as Vergenoegd's internationally
acclaimed 2005 Cabernet Sauvignon, imported exclusively for our members.
DISCOVER OUR FOUR CLUBS