The 1996 Peter Lehmann Shiraz is a deep, thick, rich potion that exhibits a fine bouquet of black fruits, spice, woodlands and bark – the telltale scents of fine Syrah. Although, young, and capable of 5-10 years of aging, the Lehmann Shiraz is already hedonistic and crammed with lush, pure fruit flavors – not sugar. Scamless and lovely, with a long finish, Peter Lehmann Shiraz is pure pleasure in a glass, right to the last, haunting drop. And what a pity is to drink this wine up, long before it's even at its prime, but it is so good already...why wait? Just open it about an hour before serving.
Spring lamb, a juicy red steak, or just about anything else you would grill on a "barbie" makes for an award-winning meal with a bottle of Peter Lehmann Shiraz. In fact, we've opened a bottle of this succulent Shiraz to have with an uninspiring cache of leftovers, just to remind us how wonderful wine can be, and just how special a Monday evening can become. Simply stated, the 1996 Peter Lehmann Shiraz is a crowd pleaser. It tastes so good that you won't have to fuss over what to serve it with, just enjoy it. Many thanks to Peter Lehmann for many a pleasurable evening.
Peter Lehmann Winery: Leading the Barossa "Would you do me the courtesy of tasting our wine?" the robust voice peeled from the other end of the phone. It was a voice that embodied every bit of South Australia. "If you don't like me wine, you don't have to buy it. Just don't throw me out on my arse, like the last buggers did. You can be polite about, you know…say thank you, and show me the door. I'll leave without wrecking the joint, I promise...of course, if you do like them," he boomed, "I'm going to ask you to lighten your wallet a bit." Thus began our relationship some 16 years ago, with the affable Peter Lehmann. Beyond the wit was the reality: high quality Australian wines were unknown entities outside their native land, and they were a tough sell. Australian wines were also in need of direction. The larger-than-life Lehmann was already one of Australia's most talented winemakers, and he had been "chosen" to lead the Barossa Valley and its hundreds of independent growers to the promised land of international recognition. Through dedication, hard work, meticulous selection, and a zealot's faith, Peter Lehmann has led the Barossa Valley, South Australia's leading fine wine region, to the forefront of international acclaim. Barossa born and bred, the man's knowledge of this special corner of the planet and its wines is without a doubt encyclopedic. So his verdict on the vintage as well as the new bottles which bear his name, is as much an accolade as the hundreds of trophies and medals he has won in the last half century. He draws on the vineyards of some 130 growers across the Barossa where the combination of hard soils and abundant sunshine yields grapes of remarkably intense flavor and depth to produce a Shiraz which is at once powerful and yet soft and very approachable. Barossa and Shiraz are as synonymous as salt and pepper and the 1996 is the essence of Barossa Shiraz. One sip of Peter Lehmann's Semillon, a full, dry Graves-style white wine, or his decadent, fleshy Shiraz, a wine that seems to have not even a hint of an angle, will tell you why this winery is now so popular. Whether it be his magnificent Cabernet Sauvignon that some say recalls California's silver Oak Cabernet or the late harvest, or botrytised Semillon that resembles the great wines of Sauternes, Peter Lehmann doesn't miss a beat.
A Man of the Soil with Gold in his Glass Back in 1948 a young Peter Lehmann worked his first vintage in Australia's premier wine region, the Barossa. Half a century later, his hands-on enthusiasm is undimmed. This year he spent every day of the vintage in the weightbridge house of the winery where he made a final inspection of each batch of grapes from growers. Peter Lehmann's is much more than a story of heritage and continuity. Wine has been made in the Barossa, an hour's drive from the South Australian capital of Adelaide, for more than 150 years. But in 1978, calamity threatened. A grape surplus meant the 200 independent grapegrowers, some of them fourth and fifth generation descendants of the first settlers, might not be able to sell their harvest. Peter Lehmann set up his winery in 1978 when he learned the multinational company which employed him would not be buying grapes from the independent growers who are the backbone of the Barossa. In essence, the company was reneging on a longstanding commitment to the grape growers. Angered by what this meant and loyal to his grapegrowers, Peter Lehmann ultimately left the large company where he was manager/winemaker to buy the grapes himself and sell the resultant wine under his own label. Gradually, and with not a few anxious moments on the way, Lehmann's venture grew into the Peter Lehmann Winery of today, where his eldest son Doug is the managing director. Barossa Shiraz: An Australian Superstar! The ancient Romans took the Shiraz wine grape from the Middle East to the Rhone Valley and so created what became some of the great wines of France. Cuttings were brought to Australia from southern France in the 19th century. In the Barossa, spared the phylloxera parasite which ravaged vineyards elsewhere, these 19th century Shiraz vines became the oldest shiraz vineyards in the world. Old vines and the knowledge acquired with them produces wines which are astonishing and sumptuous in their intensity. Reaching for words to describe their impact, connoisseurs invoke everything from berries and black pepper, to spice and plums, chocolate and cedar. They have aromas and flavors which remind you simultaneously of summer sunshine and the scent of rich earth after rain. Shiraz, though, really needs no adjective save superstar...and Peter Lehmann certainly makes great Barossa Shiraz.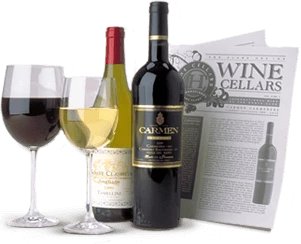 Enjoy Limited Production Estate
Bottled Wines
Discover limited production estate bottled wines such as Vergenoegd's internationally
acclaimed 2005 Cabernet Sauvignon, imported exclusively for our members.
DISCOVER OUR FOUR CLUBS