Scents of melon: cantaloupe, crenshaw and honeydew dominate the 1997 Peter Lehmann Semillon, while bold, rich flavors reminiscent of ripe melon, lemon cream, fig, and vanilla dazzle the palate. On the finish, dry, lemon-mineral flavors linger in the mouth for at least 20 seconds after you swallow. Unlike many Australian Semillon, which are often semi-sweet, cloying unbalanced concoctions, the Peter Lehmann remains true to its Bordeaux origins, producing a dry, distinctive wine that gives many of its pricey Bordeaux counterparts a run for their money. In fact, the Peter Lehmann Semillon is a better wine than most white Graves; it's bolder, richer, riper, and better focused. Kudos to Peter Lehmann for such a noble white wine.
We can think of no better complements to Peter Lehmann's 1997 Semillon than a plate full of freshly prepared prawns or a steamed lobster in a freshly drawn butter sauce. Both dishes beg for bold flavors and crisp citrus and mineral tones to cut through the natural "gras" of the sea's scavengers. The Peter Lehmann Semillon delivers on all accounts. Another award winning pairing involves a grilled, marinated tuna steak with soy, lime, and fresh herbs. Again, this flavorful marriage of the sea's mouth-filling flavors to the Peter Lehmann Semillon, provides the taster with an incomparable match. As this Semillon ages, it will take on an even greater depth of flavor that will complement hardy seafood pastas and white meats in rich cream sauces. "As you like it, now or later."
Semillon: A Noble Varietal Semillon is a star, as well as a staple in its native Bordeaux. Whether it be the fine dry white of Graves, or the nectar of Sauternes, it is Semillon that provides panache and power, imbuing the best white wines of Bordeaux with the ability to age and mature to noble perfection. Grown throughout most of southwest France, Semillon is also widely cultivated in Australia and California, while Australia prefers a Semillon/Chardonnay blend. However, recent varietal bottlings on both sides of the Pacific have serious wine tasters clamoring for more of this varietal's nectar. More widely cultivated in most Australian wine regions than Chardonnay, Semillon has a long tradition of excellence in Australia, dating back more than 150 years when cuttings from Bordeaux were brought to the "Land Down Under".
Twelve Weeks of Magic at Peter Lehmann For about 12 weeks, from the middle of February, it's easy to spot a Barossa winemaker...they're are the ones with the purple hands. At Peter Lehmann, winemaking is a hands-on job in the fullest sense of the phrase. "Our winemaking starts in our growers vineyards," says Peter Lehmann. "We are blessed with the right amount of rain at the right time, a relatively slow summer ripening period with a few bursts of top-up hot days which give our winemakers lovely batches of grapes to work their magic on." With the grapes being often harvested at night to ensure maximum flavor retention, the winemaking process begins with Peter Lehmann himself at the weighbridge where he makes a final inspection of a year's painstaking work by a corps of independent growers. The grapes are loaded into the pit then crushed and de-stalked and pumped into a "potter" for fermentation...the process where by with the addition of yeast the juice begins its fermentation and converts the fruit sugar in the grapes into wine. Throughout the fermentation process, there is continual analysis by the winery laboratory people, as well as a daily tasting by the winemakers, of all ferments. The initial fermentation lasts somewhere between 7-12 plus days. For the best Shiraz and Cabernet fruit, about two-thirds of the way through the fermentation process, the free run fermenting juice is transferred to new oak barrels to complete fermentation. Barrel fermentation adds to the flavor complexity of the finished wine and helps soften both the fruit and the oak tannins. On completion of the fermentation when the wine is "dry" (that is the fruit sugars have been converted into alcohol) the wine is assessed, racked and then filled back into barrels for maturation in the cellar. While this is a simplistic exploration of red winemaking at Peter Lehmann Wines, the process is magic...a marriage of science, technology and artistry where the growing of grapes and the making of wine are closely analyzed and assessed by both the viticultural and winemaking teams from maturation to bottling.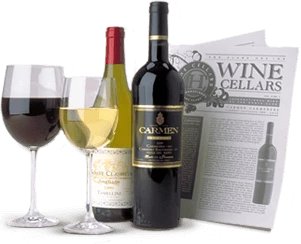 Enjoy Limited Production Estate
Bottled Wines
Discover limited production estate bottled wines such as Vergenoegd's internationally
acclaimed 2005 Cabernet Sauvignon, imported exclusively for our members.
DISCOVER OUR FOUR CLUBS