A richly colored Pinot Blanc, the 1997 Murphy-Goode exudes a bouquet of lemon custard and toasted oak. Rich fruit and a cachet of spices caress the palate. The wine culminates in a melange of citrus, with a long spice-box finish. The Murphy-Goode Pinot Blanc is no self-effacing little wine; it is bold and self-assured, making it a fine choice with flavorful foods.
Murphy-Goode Estate: Wines That Are Better Than Good "Recipe for Success" Team a creative marketer with two accomplished grape growers and carefully blend with superior vineyards located in one of the world's renowned wine-growing regions in Sonoma County's Alexander Valley. Add enthusiastic family members and a brilliant winemaker. Infuse the lot with dedication, a strong work ethic and a liberal dose of good humor: this is the tried and true recipe for Murphy-Goode Estate Winery. Tim Murphy, owner/farmer of the 200 acre Murphy Ranch, and Dale Good, former vineyard manager for Alexander Valley Vineyards and Hoot Owl Creek Vineyards, are long-time friends and colleagues. Known as pioneers in Sonoma County viticulture, both men planted some of the first premium variety vineyards in the area during the 1960's. Tim and Dale share a passion for farming, and they take great pride in their work. The two men, along with Tim's three sons, became business partners in 1980 when they leased a vineyard in the central portion of Alexander Valley. "Some of us never know when to quit." says Dale, as he describes the motivation for adding Murphy-Goode Vineyards to their responsibilities. "A gorgeous piece of land became available and it was crying for grapes. Tim and I jumped at the chance to develop the property, one of the last unplanted pieces of land here in Alexander Valley," Dale explains. Busier than ever, the farmers contemplated more pursuits; they itched to produce wine from their grapes. "Every grower is only doing half the job. As far as I am concerned, we have to make wine to complete the process," says Dale. "Good grape farming does not stop at the crusher," adds Tim. "It really is a lot more fun to follow the entire life cycle from the vine to the final product in the bottle." Consequently, the dynamic two teamed up with wine marketer Dave Ready in 1985 to form a family owned winery in Sonoma County's Alexander Valley. "Dave provided the dynamic component and expertise we lacked," says Tim. "From the beginning, the three of us shared a singular mission: to produce an excellent product which reflects the superior quality of our grapes," Tim recalls. The Murphy-Goode brand was born in 1985, when the partners hired Merry Edwards, a consulting enologist, to oversee their custom crush project of 10,000 cases. The premier vintage was an immediate success. In 1987, a small production facility was built on Murphy Ranch in Alexander Valley. Winemaker Christina Benz was hired in time to equip the winery and receive the 1987 harvest. "My initial attraction to Murphy-Goode Estate Winery was the delicious flavors of the grapes and the beautifully kept estate vineyards," Chris recalls. "The vineyards, like a well-manicured garden, were maintained with obvious care and attention to detail." Today, Murphy-Goode Estate Winery has grown well beyond initial projections. Current annual production approximates 90,000 cases. The employees are family, both literally and figuratively: Dave Ready's son works alongside Chris Benz in the cellar; Dale Goode's daughter is on the hospitality staff; Tim Murphy's three sons continue to manage the estate vines, while cultivating their own vineyards. Obviously, Murphy-Goode's assembly of partners, family members and dedicated employees significantly factor in on the winery's success. However, environmentally sound farming and incomparable grapes are also paramount to Murphy-Goode's quality. Their estate vines grow on three Alexander Valley sites while neighboring vineyards also provide excellent sources to meet the continuing demand for Murphy-Goode wines. Presently, the winery produces a host of award winning white wines: Chardonnay, Fume Blanc (dry Sauvignon Blanc) and an incomparable Pinot Blanc. Among the red varietals, Cabernet Sauvignon, Merlot and Zinfandel carry the banner of this estate's success.
Pinot Blanc: Melon de Bourgogne Pinot Blanc, known as Melon de Bourgogne in its native France, is one of the most cultivated grape varietals in Alsace. It also seems to be widely planted in among the more renowned Chardonnay vines in prime vineyards in Burgundy and Champagne-regulations notwithstanding. In both appearance and, sometimes, in the character of its wines, Pinot Blanc and Chardonnay resemble one another. Perhaps, due to this mistaken identity, coupled with the relative difficulty of its cultivation, Pinot Blanc's fortune has been cast and even overshadowed by the more famous Chardonnay. Although Pinot Blanc appears to be inextricably linked to Chardonnay, many viticulturists believe that its true forebearer is Pinot Noir, the noble "black" grape of Burgundy and Champagne. In fact, evidence supports the claim that Pinot Blanc is indeed an albino or "white" variant of the venerable Pinot Noir. Certainly, Pinot Blanc shares similar savory, spicy characteristics with Pinot Noir, and it also exhibits the same naturally elevated levels of acidity that typify Pinot Noir. In California, Pinot Blanc is increasingly popular because it retains its acid better than Chardonnay, a real asset under a searing summer sun that tends to rob grapes of their natural acid. For this reason, most sparkling wine makers in California use a high percentage of this varietal in their "cepage" or blend. Furthermore, Pinot Blanc continues to gain considerable attention on its own as a varietal wine; its spicy, full flavors marry extremely well with today's eclectic cuisine.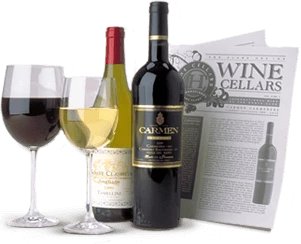 Enjoy Limited Production Estate
Bottled Wines
Discover limited production estate bottled wines such as Vergenoegd's internationally
acclaimed 2005 Cabernet Sauvignon, imported exclusively for our members.
DISCOVER OUR FOUR CLUBS