Wow! What a wine! How do you describe this flamboyant, decadent, absolutely delicious Zinfandel? Those were our first, second and third reactions to the positively scrumptious, 1997 Murphy-Goode Liar's Dice Zinfandel. Rose petal, raspberry-scented woodlands and juicy fruit form the attack of this pure, richly fruity, but not sweet Zinfandel, a wine that seems to hit all the palate pleasing spots on our taster's tongues. This is one wine our tasting panel never even had to vote on; the consensus was unanimous, the 1997 Murphy-Goode Liar's Dice Zinfandel is fantastic. It has a certain "je ne sais quoi." In other words, its hard to describe this wine. Just taste it. Winemaker, Christina Benz, has once again shown that beguiling wines are the product of a meticulously tended vineyard and a light hand on the superb raw materials that comprise this hedonistic Zinfandel. Oh baby, give me more, give me more! And we ain't lying.
Whether you prefer to light-up the grill or heat up the oven, there are more than a few winning food accompaniments to the 1997 Liar's Dice Zinfandel. A nice big pot of fresh grilled sausage and peppers wins first place among several of our tasters. Pasta, poultry, red meats and high-flavored vegetarian dishes also make excellent pairings with this hedonistic Zinfandel. Grilled vegetables, lightly brushed with a fine balsamic vinegar, are another big hit, In our experience, most traditional southern Italian dishes, especially those containing tomato-based sauces, marry extremely well with Murphy-Goode's bold, plush-style of Zinfandel. Whereby most wines ten to clash with the natural acidity in tomato sauce, or at the very least, accentuate it, the Liar's Dice Zin complements it. A platter of soft, ripe cheeses and fresh fruit is yet another fine way to while away an evening with Murphy-Goode's delicious and highly versatile Zinfandel. You may even want to try a glass all by itself.
Murphy-Goode: A Tried and True Recipe for Success We have become so enamored of the delicious wines of the Murphy-Goode Estate that we are proud to present another one of this first estate's award-winning, personality-filled wines, Liar's Dice Zinfandel as a wine of the month selection. Conceived over twenty years of breakfasts and "liar's dice" games at Mickey's Café in Sonoma County, partner Time Murphy and his circle of friends are some of the finest Zinfandel growers in Sonoma County and are, of course, the fruit source for the "Liar's Dice Zinfandel". Rarely, do we feature a winery or estate more than once, but this is what happens when an estate teams a creative marketer with two accomplished grape growers and carefully blends with superior vineyards located in one of the world's renowned wine-growing regions, Sonoma County's Alexander Valley. Add enthusiastic family members and a brilliant winemaker. Infuse the lot with dedication, a strong work ethic and a liberal dose of good humor: this is the tried and true recipe for Murphy-Goode Estate Winery, and we love it. Tim Murphy, owner/farmer of the 200-acre Murphy Ranch, and Dale Goode, former vineyard manager for Alexander Valley Vineyards and Hoot Owl Creek Vineyards, are longtime friends and colleagues. Known as pioneers in Sonoma County viticulture, both men planted some of the first premium variety vineyards in the area during the 1960's. Tim and Dale share a passion for farming, and they take enormous pride in their work. The two men along with Tim's three sons, became business partners in 1980 when they leased a vineyard in the central portion of Alexander Valley. Subsequently, the dynamic two teamed up with wine marketer Dave Ready in 1985 to form a family-owned winery in Sonoma County's Alexander Valley. "Dave provided the dynamic component and expertise we lacked," Says Tim. "From the beginning, the three of us shared a singular mission: to produce an excellent product which reflects the superior quality of our grapes," Tim recalls. The Murphy-Goode brand was born in 1985, when the partners hired Merry Edwards, a consulting enologist, to oversee their custom crush project of 10,000 cases. The premier vintage was an immediate success. In 1987, a small production facility was built on Murphy Ranch in Alexander Valley. Winemaker Christina Benz was hired in time to equip the winery and receive the 1987 harvest. "My initial attraction to Murphy-Goode Winery was the delicious flavors of the grapes and the beautifully kept estate vineyards, "Chris recalls. "The vineyards, like a well-manicured garden, were maintained with obvious care and attention to detail. Today, Murphy-Goode Estate Winery has grown well beyond initial projections. Current annual production tops 90,000 cases. The employees are family, both literally and figuratively: Dave Ready's son works alongside Chris Benz in the cellar; Dale Goode's daughter is on the hospitality staff; Tim Murphy's three sons continue to manage the estate's vines, while cultivating their own vineyards. Obviously, Murphy-Goode's assembly of partners, family members, and dedicated employees significantly factor in on the winery's success. However, environmentally sound farming and incomparable grapes are also paramount to Murphy-Goode's quality. Their estate vines grow on three Alexander Valley sites, while neighboring vineyards also provide excellent sources to meet the continuing demand for Murphy-Goode wines. Presently, the winery produces a host of award-winning wines in addition to Liar's Dice Zinfandel. Cabernet Sauvignon, Merlot, Chardonnay, Fume Blanc (dry Sauvignon Blanc) and an incomparable Pinot Blanc round out this great estate's portfolio of fine wine.
Zinfandel: America's Own Grape Zinfandel is nothing short of America's own wine grape. Yet, it is also as much a state of mind as it is a specific grape variety. It is often referred to simply as "Zin" by its adherents and has over the last 100 years become the most popular and widely planted red wine grape in America. However, nearly all Zinfandel, and certainly the best of it, presently comes from California. Despite its popularity and proliferation in America, the origins of Zinfandel remain obscure. Legend has it that Colonel Agoston Haraszthy, a Hungarian immigrant to California and father of the European tradition of winemaking in America, brought the Zinfandel grape with him on his journey to the New World, around 1850. This popular belief has yet to be proved or disproved, though modern researchers are certain the Colonel experimented widely with this grape. They also cite convincing evidence that the Primitivo grape, grown in isolated areas of Italy, Hungary, and Yugoslavia, is indeed a forebear of our Zinfandel. Nevertheless, in spite of an apparent European connection, some evidence points to Zinfandel being known to Colonial Americans living in the East where it was believed to be a native American grape varietal. What happened to those vines presents another enigma, as does what transformation, hybridization and experimentation were done by generations of Americans to arrive at what we now call Zinfandel. Hopefully, present DNA testing will solve this mystery. Zinfandel is one of California's most successful red grape varietals; it produces a fine myriad of styles, with each attracting its own adherents. Such quality and success cannot be claimed by the Primitivo or other possible forebearers. Regrettably, Zinfandel was used for many years solely for blending, but as Americans have come to discover good table wine and appreciate full-flavored individual wines, Zinfandel has increasingly been made as a varietal to stand on its own high merit.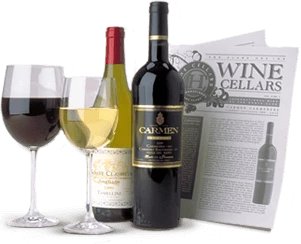 Enjoy Limited Production Estate
Bottled Wines
Discover limited production estate bottled wines such as Vergenoegd's internationally
acclaimed 2005 Cabernet Sauvignon, imported exclusively for our members.
DISCOVER OUR FOUR CLUBS