Delicious from start to finish, the 1997 Jean-Paul Champagnon "Les Roches" Fleurie is a real crowd pleaser. Packed with lush fruit (not sugar), violet and strawberry scents leap from the glass. Blackcurrant, cassis and strawberry flavors explode in your mouth, and linger for a full thirty seconds after swallowing. The quintessential Grand Cru Beaujolais, this Fleurie exhibits the royal attributes of the queen of Beaujolais: ripe, voluptuous fruit, backed by substantial flavor and a lingering, distinctive, almost haunting scent that we can even smell long after the wine is gone. Satisfying, yet enticing, there is no wonder that Fleurie is the most popular and sought after Grand Cru Beaujolais, and that Jean-Paul Champagnon is indeed a master craftsman in the noble domain of Fleurie. Too bad so little of this fine Fleurie is produced, and even less is exported. Serve this delectable Grand Cru cool, but not too chilled, (about 60 degrees Fahrenheit). It need not be opened more than a few minutes ahead of serving.
Lighter flavored meats, such as veal, ham and pork make fine accompaniments to the Champagnon Fleurie, especially when the wine is in its youth and offers the taster its full bloom of vinous fruit. After a couple of years in bottle, light game, quail, guinea hen or squab make for a memorable meal. Traditional, more savory Burgundian dishes, like Coq au Vin, are excellent complements to the wine as well. However, there is no better red wine paring for fine cheese than Grand Cru Beaujolais, and the '97 Champagnon Fleurie is no exception. Many a memorable evening we have spent with friends in the company of a plate of excellent cheeses and a couple of bottles of Fleurie. Port Salut, Bel Paese, Double Gloucester, Gouda and Edam are just a few of the selections we have enjoyed recently with this wine. Our preference is for the creamier, non-crusted cheeses, but don't be afraid to experiment.
Fleurie "Les Roches" A Flower by any Other Name The exceptional Grand Cru Beaujolais Fleurie, "Les Roches", by Jean-Paul Champagnon has to be France's best kept secret - or used to be. Champagnon is a meticulous grower and producer who arduously works rugged, hillside vineyards, full of granite rock (hence "Les Roches"), to produce a mere 800 cases of exquisite Grand Cru Fleurie. Working as a "metier", Jean-Paul Champagnon works and controls the "Les Roches" vineyard and makes the wine at the estate, but he does not own the property. In a traditional system of land sharing, akin to the American system of sharecropping, Champagnon is free to retain a sizeable portion of the harvest or to sell it off to negociants or brokers. Preferring to let his wine speak for him, Monsieur Champagnon keeps only the best 5% of his fruit for his Fleurie "Les Roches". He then turns the "cream of the crop" into a fresh, flowery (hence the word Fleurie) subtle and delicious gem. The rest of the fruit he sells off to well-known negociants...one of whom you can probably guess. Packed with lush violet, blackcurrant and strawberry flavors, the handicraft of Jean-Paul Champagnon's brutal selection is nothing short of one of the best wines of the Beaujolais Appellation, and further testament to the adage: "great wine is made in the vineyard". Merci mille fois, Monsieur Champagnon. Your wine is a flower in the buttonhole of civilization.
The Grand Cru of Beaujolais Situated in the extreme south of Burgundy, Beaujolais is a vast region of nearly two hundred villages and communes, spread out on varying "terroirs", or subsoils. Beaujolais forms the unofficial dividing line between northern and southern France. Straddling the un-specified equivalent of the American Mason-Dixon Line, Beaujolais wine flows in copious quantities both north to Paris and south to Lyon and elsewhere. Undoubtedly, there is a wide variation in quality in Beaujolais, reflecting the differences in soil composition, altitude and the level of production among the thousands of growers. Yet, the Gamay grape provides the common denominator and the defining flavor and character of the region's wines. In fact, Gamay and Beaujolais are nearly synonymous even though Beaujolais can be bottled as Burgundy if it contains Pinot Noir or Chardonnay, rather than Gamay. However, very little of the appellation's wines are bottled as Burgundy because of the unique quality of Gamay in the granite rock of Beaujolais and the unprecedented commercial success of the appellation has enjoyed since the Second World War. Gamay reigns supreme in this picturesque region, and, nowhere is this more true than in the 10 Grand Cru villages of Beaujolais. Comprising the heart of Beaujolais, the 10 Grand Cru villages offer the consumer the best Gamay-based wine in the world. In addition, each township possesses individual characteristics that make for memorable drinking. In the order of ascending fullness and ability to age the Grand Cru of Beaujolais are: Brouilly, Cote de Brouilly, Chiroubles, St. Amour, Fleurie, Regnie, Chenas, Morgon, Julienas, and Moulin-a-Vent. One of life's great, and most affordable pleasures is a tasting of Grand Cru Beaujolais. Why not make tasting them a party with a group of friends? Then, and only then, can you fully appreciate the charm and character of the world's finest Gamay wines. Enjoy!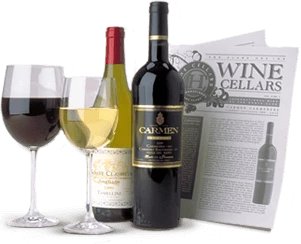 Enjoy Limited Production Estate
Bottled Wines
Discover limited production estate bottled wines such as Vergenoegd's internationally
acclaimed 2005 Cabernet Sauvignon, imported exclusively for our members.
DISCOVER OUR FOUR CLUBS