Exhibiting all the attributes of classic red Burgundy, the 1997 Guy Chaumont Bourgogne Pinot Noir offers up scents of raspberry, leather, and spice. Delicate, yet rich in fruit, this pretty Burgundy delights the palate with the essence of Pinot Noir: savory scents of stuffing and sage, wrapped around pure, light fruit. An elegant dry finish frames this Burgundy's lovely lingering varietal flavors and refreshes the palate. Gentle, yet substantial in flavor, the Chaumont Bourgogne Pinot Noir is what real regional French Burgundy should be about, but rarely is. It's obvious that Chaumont's bio-dynamic techniques and lower than average yields produce a superior wine, and that such techniques account for the purity and naturalness one tastes in his wine. A healthier, more natural Burgundy would be hard to find. Many more famous Burgundy producers should take note.
Nowhere is food and wine so much a part of daily life as it is in Burgundy. It should come then as no surprise that traditional Burgundian fare make excellent accompaniments to the region's wines; Coq au Vin, Saumon Lyonnaise, and even Boeuf Bourguirgnon are all first class choices with the 1997 Guy Chaumont Bourgogne Pinot Noir. We particularly recommend the Coq au Vin or the Saumon Lyonnaise with the Chaumont Cote Chalonnaise. The combination of this pretty Burgundy with a grilled salmon and Lyonnaise potatoes, exuding their savory scents of a country kitchen, are almost too good to bear. In a more traditional American vein, we love the company of this wine with roast turkey and an onion and sage stuffing. In short, a slightly cool bottle or two of Chaumont's Bourgogne and a Thanksgiving feast with all the trimmings is something to be thankful for....that is unless you absolutely have to have a white wine. In that case, try a good California Chardonnay or Viognier.
Guy Chaumont Vinyards Bourgogne Cote Chalonnaise Pinot Noir Guy Chaumont produces red, white, and sparkling wines from picture perfect vineyards on the Cote Chalonnaise, a low ridge extending south of Beaune in the center of the France's famous Burgundy region. The Cote Chalonnaise now merits its own appellation to distinguish the region's wines from other Burgundys. Pinot Noir is the only grape for the red wines of the Cote Chalonnaise, wines that are renowned for ripe fruit and easy drinkability compared to the more tannic and concentrated reds from the areas further north around Beaune and Nuits-St.-Georges Like most Burgundy vineyards, the Chaumont estate is quite small, only twelve acres in all. The young Guy Chaumont took over the vineyards fifteen years ago from his father, who had converted the estate to organic growing in 1963 out of concern for the family's health. Their vineyard is certified organic by Nature and Progress, a French organization known for work with organic farmers. All of the estate's grapes are fertilized and protected from pests naturally, without synthetic chemical sprays. The wine is made without additives, is not chaptilized with sugar, and contains only a trace of sulphur. Many vintages do not even require the "Contains Sulfites" warning because no additional sulfites are added to the wine. Guy's Pinot Noir and Chardonnay are aged in both old and new oak barrels after pressing. The Chardonnay is classic white burgundy with rich, buttery apple and melon fruit and a long, smooth finish. The red is smooth, fruity and very aromatic, full of the ripe berry flavor of Pinot Noir. It ages gracefully and is excellent with meat, cheeses, and hearty casseroles - the lusty country fare of southern Burgundy.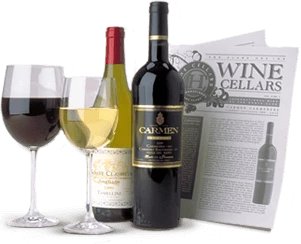 Enjoy Limited Production Estate
Bottled Wines
Discover limited production estate bottled wines such as Vergenoegd's internationally
acclaimed 2005 Cabernet Sauvignon, imported exclusively for our members.
DISCOVER OUR FOUR CLUBS