The brilliant color of the 1997 Domaine du Rey Cotes de Gascogne makes the wine attractive from the start. Its powerful nose recalls exotic fruits, grapefruit and melon and the scent of blooming woodlands. Medium to full-bodied in the mouth, this Cotes de Gascogne bursts with fruit (not residual sugar) before it reveals a bracing acidity that provides freshness and definition, as well as a long, harmonious finish. It is best served chilled and consumed before its third birthday.
The charm of good Cotes de Gascogne has always been its freshness and frivolity, making it a perfect wine for picnics, parties and uncomplicated fare. More than one taster has described the 1997 Domaine du Rey as her "party pick", the wine most appreciated by guests and hosts alike for its conviviality and charm. Hors d'oeuvres, canapes, grilled chicken, shrimp with cocktail sauce and other party time fare are some of our favorite foods to complement Domaine du Rey. Yet, in Gascogne, a region renowned for its hearty country pates, cassoulets and assorted truffle dishes, large quantities of Cotes du Gascogne are consumed with pate as an appetizer wine. Often it is taken on its own, too, as an aperitif. Creamy soft cheeses also make for a fine pairing with Domaine du Rey, when a light, uncomplicated yet flavorful wine is in order, a wine that can cut through the fat of the cheese and still retain its freshness. Try it!
Domaine du Rey: All for One and One for All Located in the heart of Gascony, the legendary home of the Three Musketeers, Domaine du Rey is an 89 acre property that has been in the family of vintner Guy Arrouy since1780. This pastoral region of France boasts a rich soil mixture of sand, clay, chalk and a warm climate - perfect attributes for the production of the province's fresh aromatic white wine called "Cotes de Gascogne". In centuries past, the white wines of the Cotes de Gascogne would have been sold as White Bordeaux, but today they bear their own name. They also exhibit their own special flavor, due largely to the grape varietals and unique soil compositions of this Vin du Pays. In order to produce the very finest Cotes de Gascogne, Domaine du Rey limits its wine production to a single white wine under the Vin de Pays des Cotes de Gascogne Appellation. Its vineyards are planted with the traditional vines of Gascony: 70% Colombard (lending fruit and aroma), 20% Ugni Blanc (the grape used to make Armagnac and Cognac, supplying finesse) and 10% Gros Manseng. The wine of Domaine du Rey is entirely estate bottled. Domaine du Rey is a consistent medal winner at the Concours d'Eauze and the Concours General Agricole de Paris, two of France's most prestigious wine competitions. The wine's aroma recalls exotic fruits and woodland scents, and it exhibits a bracing freshness which makes it a prefect warm weather wine, and a leading candidate for the best white wine of the region. Undoubtedly, the quality of Monsieur Arrouy's Cotes de Gascogne has not gone unnoticed by either the French consumer or the prestigious Guide Hachette des Vin, France's bible of wine, which refers to Domaine du Rey as a "vin remarquable". We believe it is simply one of France's best country wines.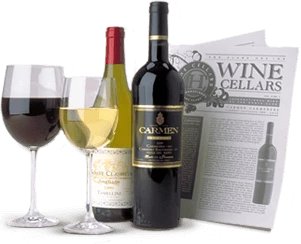 Enjoy Limited Production Estate
Bottled Wines
Discover limited production estate bottled wines such as Vergenoegd's internationally
acclaimed 2005 Cabernet Sauvignon, imported exclusively for our members.
DISCOVER OUR FOUR CLUBS