The 1997 Ca Dei Frati Lugana "I Frati" floored us. Nothing had quite prepared us for this delightfully full, yet very fresh and stylish wine. Wearing a rich, lightly golden robe with a Chablis-like hint of green, the "I Frati" more clearly resembles a fine white Burgundy than a northern Italian white wine. A beguiling scent of flowers, fruit and cheese dominate the heady bouquet, while textured fruit in a satin wrap caress the palette. Concentrated, complex and expressive, this Ca dei Frati Lugana is both elegant in structure and a bit wild, which only contributes to its great interest at the table - sort of like setting next to an elegantly dressed dinner guest who surprises you by whispering something hilarious and delightfully wicked! Serve this lively, fresh "wicked" wine moderately chilled, and enjoy! We're quite confident you'll invite this charmer for another visit.
Sipping the 1997 Ca dei Frati "I Frati" outdoors on an early summer evening is about as good as it gets. This wonderful Lugana recalls the beautiful balconies of nearby Verona, resplendent with the scent and feel of summer, married to a summer breeze and the lore of love, Romeo and Juliet….okay, okay, you get the picture. This is a very romantic wine. It doesn't require much in the way of food, but it certainly pairs well with fresh water fish, especially, bass, pike and trout. We have also enjoyed it with a full range of hors d'oeuvres and traditional cheese and meat pies which resemble heavy duty quiche. Stuffed, grilled or raw vegetables, even salads are other fine choices with the "I Frati". Although our preference is for light foods with Lugana, this is not a dainty, wisp of a wine: it's distinctive aroma and fresh flowery bouquet together with a hint of zest make the 1997 "I Frati" both unmistakable and vivacious. Drink it moderately chilled anytime and often.
Ca dei Frati is located on the south bank of beautiful Lake Gorda, near the picturesque Sirmione peninsula. Just twenty hectares (approximately 44 acres) of vineyards provide all the grapes used in the production of Ca dei Frati wines. Since 1940, four generations of the Dal Cero family have owned this impeccably run estate, an azienda agricola which specializes in the production of the most enticing and seductive wines from the enchanting Lugana DOC. Currently run by Igino, Franco, and Ana Maria Dal Cero, Ca dei Frati has recently developed a new trellising system, modernized its cellars and equipment and begun for the first time to market its wines outside the region. Although some red wine is produced at the estate, along with small quantities of Chardonnay and Sauvignon Blanc, it is Ca dei Frati's legendary Lugana wines, which have bestowed nearly cult status on this outstanding producer, causing the winery to sell out of its entire stock of Lugana each year immediately upon release. Rarely is there even a case available at the winery. To add interest for visitors who find the cellar empty, the Dal Ceros have frescoed the walls. If you can't revel in the beauty of a fine Lugana, you may as well enjoy the other artwork! Ca dei Frati produces two very distinctive, but stylistically different Lugana wines. Although both wines are made from the Lugana grape, the local name for the Trebbiano varietal, cultivated in the area for centuries, each expresses a different aspect of Italy's most successful Trebbiano based wine. Lugana "I Frati" is Ca dei Frati's best known and most traditional Lugana. It is made from low yields and is grown in a chalky soil, giving a rich, almost Burgundian quality to the wine, particularly as it matures. Lugana "Bolletino" is even fuller and richer than the I Frati. It enjoys an extended harvest and is aged in 225 liter oak casks. It is fully mature upon release, but will retain its rich intense flavor for many years.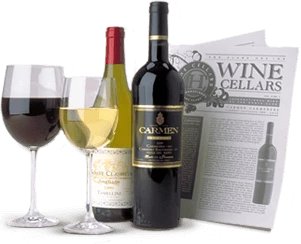 Enjoy Limited Production Estate
Bottled Wines
Discover limited production estate bottled wines such as Vergenoegd's internationally
acclaimed 2005 Cabernet Sauvignon, imported exclusively for our members.
DISCOVER OUR FOUR CLUBS