Produced from a cepage, or blend, of 40% Pinot Blanc, 40% Pinot Auxerrois and 20% Tokay Pinot Gris, that underwent malolactic fermentation, the 1997 Bott Geyl Pinot d'Alsace is a medium-bodied wine of broad, rich flavors and amplifying aromatics. Scents of melon, mango and rose petal give way to pure, rich fruit on the palate. Wild flowers and honeysuckle seem to spring from the glass, but ample body and structure prevent the wine from being flabby or sweet. A finish of orange peel and a slight spritz add freshness to a lightly smoky, racy finish. This is such a fun wine to sip or guzzle that we have had to "cut off" more than a few party types we've served it to. So soft and silky is the Bott Geyl Pinot d'Alsace that it goes down easy, real easy. For full enjoyment, serve the wine chilled, but decant it a few minutes before serving. Due to an extended stay on large lees and minimal filtration, the wine benefits both aesthetically and sensually from a little extra care. Then, boy does it go down easy. "A Votre Sante."
"Anytime a party prevails or the spirit moves me" is one taster's contribution to accompaniments with the Bott Geyl Pinot d'Alsace. Traditional Alsatian fare certainly provide a more orthodox approach to this wine. Recently, we served the Bott Geyl Pinot d'Alsace with pork chops smothered in apple and fresh sauerkraut, much to the delight of the evening's coterie. Yet, we also like this wine with appetizers and refined pates. Another winning choice with this fine Pinot d'Alsace is lake fish. We can also recommend the Bott Geyl with a variety of marinades that call for fresh ginger. If used in moderation, the fresh ginger seems to marry with the slightly exotic flavors in the Pinot d'Alsace, without overpowering them. Lightly spiced Chinese dishes, such as fried dumplings and either chicken or pork Moo Shu make nice complements, too. This is a very versatile wine.
Domaine Bott-Geyl: A Renowned Estate with a New Direction Domaine Bott Geyl is a renowned Alsace estate that was founded in 1840. It grows all of the best traditional white grape varietals of Alsace: Pinot Blanc, Pinot Auxerrois, Tokay Pinot Gris, Muscat, Riesling and Gewurtztraminer. Concentrating on fruit-driven, user friendly wines with great appeal, the estate's current scion, Jean-Christophe Bott, farms his vineyards using natural methods that he describes as "nearly organic". He hand picks his fruit late in the harvest to ensure physiological ripeness and Bott is not afraid to prune away excessive yields, and profits, in order to produce purer, richer wines than most of his compatriots. How we wish more growers and wineries in Alsace, and elsewhere, would practice the dying art of "epluchage", or pruning; they would make more concentrated and enjoyable wines and stress their vines less, resulting in a decreased dependency on chemical and technological intervention during winemaking. From ten hectares (22 acres) of vineyards from various sites, Jean-Christophe cultivates all of the major Alsace grapes. Consisting of hillside vineyards, as well as few, choice low-lying parcels, his vineyards express the care and the unique "terroir" of each individual site. Ranging from the valley floor to over 1100 feet in elevation, Bott Geyl Vineyards consist of many different soil compositions: marl, chalk, pebble, gypsum and heavy stones - all ideal for the multitude of grape varietals produced by this first rate estate. Each vineyard site grows the varietal most aptly suited to its soil. In addition, each plot offers excellent drainage, an important factor in producing healthy vines and concentrated, flavorful wines. The average age of Bott Geyl's vines is a respectable 30 years. The harvest at Bott Geyl begins with the time-honored tradition of hand picking, followed by a careful sorting and selection of the grapes from Champagne collection cases. From their fine baskets, the grapes are pressed whole which allows some skin contact and helps develop a broad range of aromas. "As the pressing is the most important step for the winemaker in the vinification process, it cannot be done hastily," says Jean-Christophe Bott, "or the entire harvest will be ruined," he adds. At Bott Geyl the pressing is done slowly and carefully. There is no inoculation (killing of the natural yeasts with sulfites or other antiseptics prior to fermentation, in order to introduce artificial strains of yeasts) practiced at Bott Geyl. All of the estate's wine are produced using the natural indigenous yeasts from the vineyards. It is this practice that Bott and many others contend is responsible for the purity and individual personality that is so apparent in this estate's wine. Espousing the philosophy and practice of prolonged fermentation, Bott's wines do not normally complete fermentation for 2-6 months. After fermentation, the wines are racked, but they remain on their lees (skins) for an additional 4-6 months, or longer, to extract flavor. Subsequently, the entire production of Bott Geyl is then bottled by September following the harvest, no mean feat when one considers that there are at least 16 individual offerings every vintage from this estate. Yet, the entire annual production is a mere 8000 cases. Indeed, good things and especially good wines, come in small handcrafted quantities. Many thanks to Jean-Christophe Bott for the exciting direction he is steering this fine, family estate.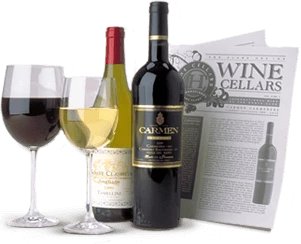 Enjoy Limited Production Estate
Bottled Wines
Discover limited production estate bottled wines such as Vergenoegd's internationally
acclaimed 2005 Cabernet Sauvignon, imported exclusively for our members.
DISCOVER OUR FOUR CLUBS