A medium-bodied wine, the 1997 Blackstone California Merlot is a real crowd-pleaser. It exhibits a fine aroma of ripe berry, cherry and toasted vanilla. In the savor, creamy creme de cassis flavors and hints of white chocolate emerge in a very suave, well-flavored format. This is a supple wine with no hard edges. Already this wine is ready and willing to please. Give it fifteen or twenty minutes to breathe and you will be shocked at how round, gracious and delicious it is with a wide array of foods.
The Blackstone Winery The Blackstone story is one of two brothers, Derek and Courtney Benham. Raised in the "Great Valley" of central California, amid vineyards and almond orchards, they learned the great tenet of the land: it gives back only what you give it, only maximum efforts yield maximum results. Neither Benham has been afraid to exert maximum effort and extend himself. After graduating from the University of California at Berkeley in 1981 and 1982 respectively, the Benham Brothers embarked on promising careers in the wine industry with the Barengo Winery. By 1985 they were running the Barengo Winery/Lost Hills Winery in Lodi, California. In 1990, after a myriad of experiences in growing, sourcing and marketing wines, the Benham Brothers created the Blackstone Winery with a single purpose: to share the good life with people everywhere who enjoy elegant wines. To accomplish their goal, Derek and Courtney, along with winemaker Dennis Hill, focus on the task of creating wines that share an integrated balance of varietal flavor, oak extraction, and tannins. In order to maintain stylistic integrity and to assure consistent, quality wines, the Benham Brothers have developed long term agreements with quality growers in Napa, Sonoma, Mendocino, Lake, and Monterey counties. The Benhams work in close contact with all the growers and they contribute to all strategic areas of the business - from sourcing grapes and blending the Blackstone wines, to overseeing the sales and distribution efforts. These arrangements and dedication have catapulted Blackstone Winery to the forefront of highly acclaimed California wineries in just a few short years. Although the winery produces Chardonnay as well as Merlot, it is the winery's juicy, supple Merlot wines that have rightfully earned the Benham Brothers fame and fortune. Presently, Blackstone Winery produces two Merlot offerings: the Blackstone Napa Valley Merlot and the Blackstone California Merlot. Both wines have garnered considerable critical acclaim. Since 1994 alone, Blackstone wines have won more than a dozen prestigious awards at major California and International competitions. In addition, Wine & Spirits Magazine and Beverage and Food Dynamics have given the Blackstone California Merlot top honors. "I really enjoy creating fine varietal wines. The main focus of my time is...to create memorable Blackstone wines that are flavorful, balanced and interesting," says Blackstone's winemaker, Dennis Hill. With the dedication of the Benhams behind him, Dennis Hill has succeeded in fashioning a string of memorable Merlot wines - easy to drink elegant and flavorful wines of distinction. Enjoy!
Merlot Madness Historically, Merlot is one of the oldest continuously cultivated grape varietals in the world. Along with Cabernet Sauvignon and Cabernet Franc, it forms the glorious triumvirate known as the "Bordeaux blend". Merlot or "Gros Doux" as it is often called in its native Bordeaux, has a lineage dating back over two thousand years to Roman Gaul. Although it is true that most of the fine red Bordeaux today contain only a percentage of Merlot, some of the loftiest names in Bordeaux could legally be labeled Merlot, if varietal bottling were their tradition. The great Chateau Petrus, one of the world's most expensive and exquisite wines, is certainly the supreme example of the heights Merlot can attain on its own. Chateau Petrus normally contains at least 95% Merlot, far above the legal 80% requirement set by the EEC for varietal bottling. Not content to be a homebody, Merlot has traveled the length and breadth of the globe where, presently, it is cultivated on every continent except Antarctica. Presently, Merlot is the "hottest" grape in America. Americans love Merlot, and the seemingly insatiable thrust we have for any wine that bears its name can only be described as madness: Ironically, Merlot wasn't even a serious player among California varietals until the 1980's. During the wine boom of the mid 1960's, when Chardonnay, Cabernet Sauvignon and Zinfandel were being planted extensively throughout California, only a mere 31 acres of Merlot could even be found in the state and most of that was in one experimental vineyard. By the 1970's Merlot's presence could be seen in California, as the grape began to garner attention from growers, but even then, most of it was being used to blend with the hardier Cabernet Sauvignon wines that were enjoying great favor. "Always a bridesmaid, never a bride", was the often repeated description of this soft-spoken grape. It wasn't until the 1980's that Merlot was extensively bottled as a varietal to seek its own merit. Since the 1970's, Merlot's status has changed dramatically. With the advent of America as a red wine drinking nation, hooked on the "heart healthy" declaration of the medical establishment, Merlot has come of age. In the 1990's, Merlot basks in its highly regarded place in the sun - a superstar. Since the 1970's, Merlot's status has changed dramatically. With the advent of America as a red wine drinking nation, hooked on the "heart healthy" declaration of the medical establishment, Merlot has come of age. In the 1990's, Merlot basks in its highly regarded place in the sun - a superstar.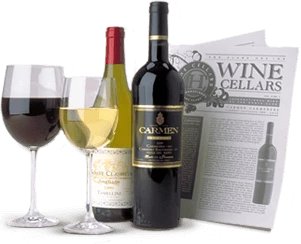 Enjoy Limited Production Estate
Bottled Wines
Discover limited production estate bottled wines such as Vergenoegd's internationally
acclaimed 2005 Cabernet Sauvignon, imported exclusively for our members.
DISCOVER OUR FOUR CLUBS