The 1997 Alamos Ridge Cabernet is built on a core of ripe plum and blackberry fruit laced with essence of hazelnut chocolate. In aromatic profile, it intrigues with nuances of cedar, cigar-box and toast from aging. The palate is medium full-bodied and layered with generous and finely rendered tannins for a smooth, supple texture. It can be drunk happily now, or it may be cellared for an additional 2-5 years. Like all of Alamos Ridge's Cabernets, the fruit was picked entirely by hand from the estate's own vineyards, and the resulting wine was bottled unfined and unfiltered. In the Bordeaux tradition, the 1997 Alamos Ridge spent a year in small oak barrel-at least 30% of which were new barriques. This is evident in the lightly toasted "pain grille" flavors that coat the wine's succulent fruit.
Being both balanced and flavorful, the 1997 Alamos Ridge Cabernet Sauvignon complements a cornucopia of hearty dishes, cheeses, and chocolate. Yes, chocolate. Many of our tasters espouse the combination of fine chocolate with the Alamos Cabernet; one taster even pronounced that combination to be her one and only divine revelation. In true Argentine fashion, the Alamos Ridge Cabernet also does wonders for a thick, juicy steak or prime rib. But as always, let your palate and your passion be your guide. Enjoy!
Alamos Ridge: All About Location and Innovation The inspiration for Alamos Ridge comes from two sources: the talents of winemaker Paul Hobbs and the unique geographic region in Argentina known as the Mendoza Plain, another land "down under". In the Argentine province of Mendoza, the Andes rise to the 22,834-foot climax of Aconcogua. The range is so massive that it blocks Pacific storms, holds snow all year, and sends vast alluvial fans laced with rivers of glacial meltwater onto the high Mendoza plain twenty thousand feet below. Winemaking families have immigrated from Italy and Spain to plant vineyards here for a hundred years. It's not surprising that the European vines they planted in Mendoza: Cabernet Sauvignon and Chardonnay in particular, acquire within their intense fruit a subtle flavor suggestive of these mountains. In 1989, Paul Hobbs' friendship with the Catena family led to an invitation to come to their Mendoza vineyards and take charge of a new project making Argentina's first world-class Chardonnay. The success of that Chardonnay, the unique potential of the geography, and Paul's admiration for the Argentinean culture and people led him to found his own Mendoza label, "Alamos Ridge". Paul Hobbs has a long history of making distinguished California wines as winemaker for Robert Mondavi and Simi, and as consultant for such premier estates as Peter Michael, Fisher Vineyards and Stag's Leap Wine Cellars. His own self-named label has quickly become one of California's most sought-after wines. But when he came to Mendoza, it was not to duplicate California wines. "I can be part of a revolution here," he says. "Argentine wine not only has the potential for sustained excellence, I believe that it will define a new category of fine wine as unmistakably Argentinean as Bordeaux is French." The grapes for Alamos Ridge are a gift of the Andes. Many grow at elevations of up to 3500 feet where the stony soil is crucial for the deep rooting and mild vine stress that results in concentrated fruit. At night the vineyards are cooled by air descending from the snowpack. The mountains block all but six inches of rain annually, but store vast amounts of snow that feed the rivers Mendoza and Tunuyan. Mendoza is a rare thing - a desert with water. A sophisticated and extensive system of canals over 500 years old provides an accurate way for the winemaker to control the irrigation of the vineyards. The Andes and the arid climate isolate Mendoza from pests as well, and organic farming methods are increasingly in use. There is also no phylloxera, the dreaded vine louse that continues to wreck havoc in Europe, and more recently in California. The ideal conditions in Mendoza produce grapes with all the complex intensity necessary for fine wine. But it's the unique and subtle flavor of their high-altitude origins that inspired Paul Hobbs. He employed a careful combination of technology and hand-crafted techniques to create wines of perfect balance, in which high notes sparkle, yet nothing is overdone and nothing is lost. "Life in Argentina is refined and elegant, and wine is as much a part of it as sun, soil and water," Hobbs says. "My style of wine making is new to Argentines, but what I'm trying to do is instantly understood here. Technology, people, geography - everything is in place for the huge advances happening now. This may be the most exciting place in the world to be making wine." Although Hobbs no longer makes the wines himself at Alamos Ridge, he has left an indelible mark of quality on this fine estate.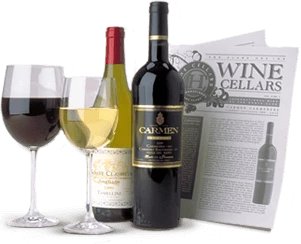 Enjoy Limited Production Estate
Bottled Wines
Discover limited production estate bottled wines such as Vergenoegd's internationally
acclaimed 2005 Cabernet Sauvignon, imported exclusively for our members.
DISCOVER OUR FOUR CLUBS