A saturated, purple potion, the 1996 Chateau St. Paul is a deep, rich Bordeaux with plenty of fruit, character, and tannin. A bit closed and brooding at the moment, several hours in a decanter reveal the classic scents of Bordeaux: blackberry, cassis, cedar, coffee and chocolate. Pure and rich in flavor, this wine is just beginning to shed the substantial layer of tannin that overlaps the wine's lush center. Like all fine Bordeaux, (wines from the excellent 1996 vintage in particular), the Chateau St. Paul begs for several more years in bottle to reveal its inner core and release the secondary characteristics that make Bordeaux the most cellared and sought after red wine in the world. Yet, this fine Bordeaux is so drinkable already, when decanted two hours before serving, one is tempted to commit infanticide. You decide what the more serious crime might be: to drink it now, or deprive yourself of the pleasure.
The Bordelais enjoy a fine Haut-Medoc with everything from roast leg of lamb with garlic and herbs to young lamprey or eel in red wine, although we have not tried the latter, we can heartily endorse the former. We have also developed a fondness for the young Chateau St. Paul with braised rabbit in a mustard sauce. The rich sauce complements the masculine side of the Chateau St. Paul, while the lush, more feminine center of the wine brings out the tender, delicate flavor of the rabbit. Finish the bottle with some ripe, soft cheese and you might think that you've died and gone to heaven. Rare prime rib, steak or even stews also make for winning combinations with this fine Haut-Medoc. If your prefer to lay the Chateau St. Paul down for at least a couple more years of aging, you will find that veal, a plain roast chicken and a wide variety of meat and vegetarian dishes in the company of light cream sauces make for great accompaniments to a more mature Bordeaux! In an ideal world, you would have enough of this wine to experiment with now while your cellar full of this beauty matures to perfection.
Chateau St. Paul: Appellation Haut-Medoc Controlee Situated on a beautiful gravely hill overlooking the Gironde River, Chateau St. Paul occupies a formidable sight. To the left of the chateau are the vines of the great Chateau Sociando-Mallet, and to the right the renowned St. Estephe Appellation. Formally, a part of Chateau St. Paul even belonged to the highly reputed St. Estephe estate of Chateau Le Boscq. As the French would say: "this is a splendid 'terroir'." What more could one ask of this little gem? How about a fine red Bordeaux, a wine that is both powerful and balanced and capable of aging, a wine with the potential to be something special - a first class Bordeaux. Chateau St. Paul is an impeccably run 48 acre Cru Beaujolais Bordeaux that seems poised to become a reference point for the appellation. Making a lush wine, with a core of ripe fruit that is wrapped in considerable tannin, Chateau St. Paul admirably pairs elegance with structure. The result is a balanced, beautifully wrought Bordeaux that drinks well young, but it will also develop the secondary and tertiary characteristics known as complexity. At Chateau St. Paul, all four of the noble red Bordeaux varietals are included in the "cepage" or assembled wine. Presently, the vineyard is planted to 45% Merlot, 30% Cabernet Sauvignon, 20% Cabernet France, and 5% Petit Verdot, statistics which are more akin to the great Classified Growths than a Cru Bourgeois. Presumably, it is this classic varietal blend on an excellent terroir, along with the attention to detail in the estate's cellar, that accounts for the consumate "classified Bordeaux" quality of the wine produced at Chateau St. Paul. After a normally late harvest and careful selection of the grapes, vinification at Chateau St. Paul begins with a cold pre-maceration for 12 days to provide the greatest concentration of color and aromas. A traditional maceration and fermentation are then done for at least 25-30 days, followed by at least a12 month stay in new or renewed oak barrels. Rackings and finings (clarifying) are done only with egg whites, never harsh chemicals. The Haut-Medoc is responsible for more Classified Growths and first rate Cru Bourgeois red wines than any other Bordeaux appellation. Situated along the Gironde to the northwest of the city of Bordeaux and near to the sea (Bordeaux means beside the waters), this most illustrious of appellations includes the great communes of Pauillac, St. Julien, Margaux and St. Estephe, as well as a host of smaller villages - all capable of producing first rate Bordeaux. The only downside to the Haut-Medoc is the cost of its wine; Haut-Medoc wines are some of the costliest in the world. Many thanks to the proprietors of Chateau St. Paul for their excellent Haut-Medoc, which up to now can still be purchased by middle class wine aficionados and collectors, without a secured loan. Enjoy Chateau St. Paul, but don't tell too many of your friends about it, lest it become the next darling of the millionaire's club.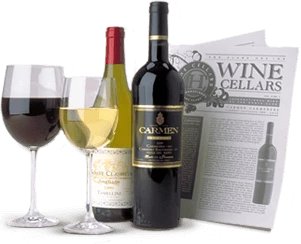 Enjoy Limited Production Estate
Bottled Wines
Discover limited production estate bottled wines such as Vergenoegd's internationally
acclaimed 2005 Cabernet Sauvignon, imported exclusively for our members.
DISCOVER OUR FOUR CLUBS