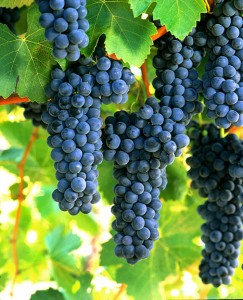 Although its DNA points to Eastern Europe's Primitivo grape as its ancestor and its New World appearance still remains under investigation, Zinfandel has been dubbed "America's own grape variety." In California, Zinfandel produces a wine quite different from its Croatian and Italian forebearers, and nowhere is that more apparent and welcome than in Sonoma County – the spiritual home of Zinfandel. In Dry Creek Valley and along the banks of Sonoma County's Russian River, Zinfandel relishes the cooling Pacific breezes that funnel up the appellations' canyons and valleys as its fruit basks in the long, dry summer afternoons, which not surprisingly bring the grape to the pinnacle of perfection. Zinfandel's deep, rich colors, intense berry, bramble, and herb flavors, high alcohol, and lush tannins result in wines that fill the mouth and satisfy all of the senses.
One of Zinfandel's keys to success is its extraordinary lifespan, which enables it to produce quality fruit well into old age. In fact, the oldest Zinfandel vineyards (many in California are in excess of 100 years of age) are the most prized. Zinfandel can be quite versatile, too (think White Zinfandel as well as many of California's most celebrated and intense red wines). As an immigrant to our shores, Zinfandel embodies the American experience. It is a grape that has transformed itself over the last century and a half and honed its own unique identity. In the eyes of many, Zinfandel has become a bigger, better, more complex grape since its arrival in America with "a can-do attitude" and a unique identity all of its own.
Since the late 19th century Zinfandel has enjoyed a favorable reputation among California's leading Italian immigrant population and numerous Italian-American winemaking families who valued its rich flavors, strength, and vigor. Names such as Pedroncelli, Martinelli and Seghesio became nearly synonymous with Zinfandel and these wineries still enjoy iconic status as purveyors of America's unique grape variety.