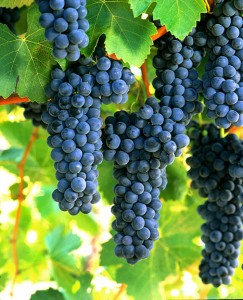 Zinfandel has been dubbed "America's own grape" despite or perhaps on account of its obscure heritage and its immigrant status.  Like the vast majority of Americans, Zinfandel's ancestry and roots hail from lands far away.  Zinfandel's DNA points to Eastern Europe and the Primitivo grape variety whose origins lay in Croatia and more recently Italy, which may in part account for its popularity among the Italian immigrant population that began flocking to our shores, both east and west, in the late 19th and early 20th centuries.  Finding favor in California among a welcoming immigrant tide in search of a grape capable of producing wine with both a body and a soul in a climate conducive to its production should come as no surprise.
Nonetheless, Zinfandel produces a wine quite different in California from Primitivo and its Croatian and Italian forbearers, and nowhere is that more apparent and welcome than in Sonoma County – the spiritual home of Zinfandel.  In Dry Creek Valley and along the banks of Sonoma County's Russian River, Zinfandel relishes the cooling Pacific breezes that funnel up the appellation's canyons and valleys as its fruit basks in the long dry summer afternoons, which not surprisingly bring the grape to the pinnacle of perfection.  Amador County, Lodi and other California locales also call home to America's quintessential varietal where Zinfandel's deep rich colors, intense berry, bramble, and herb flavors, high alcohol, and lush tannins result in wines that fill the mouth and satisfy all of the senses, yet there is more to Zinfandel than strength and vigor.
One of Zinfandel's keys to success is its extraordinary lifespan, which enables it to produce quality fruit well into old age.  In fact, the oldest Zinfandel vineyards (many in California are in excess of 100 years of age) are the most prized.  Another attribute of Zinfandel is its versatility.  Zinfandel can take on the role of chameleon, equally capable of becoming a light pink quaffable wine such as White Zinfandel, or a deep, dark intense potion of incredible proportion, or something altogether different in the refined style of classic claret.
As an immigrant to our shores, Zinfandel embodies the American experience.
It is a grape that has transformed itself over the last century and a half and honed its own unique identity, an identity that is continually evolving and infinitely open to interpretation.  In the eyes of its many admirers, Zinfandel has become a bigger, better, more complex grape since its arrival in America with "a can do attitude" and an identity all of its own.  This year, why not take a tour of America and discover America's own grape.  Enjoy!
Salud!
Don