One of my favorite outings to do is to go wine tasting. When we can't take a trip to a region that have several wineries to choose from – we go to a wine bar that offers tastings. Last week our local wine bar Uncorked Wine Bar www.getuncorked.com had a blind Zinfandel tasting that 4 of us attended.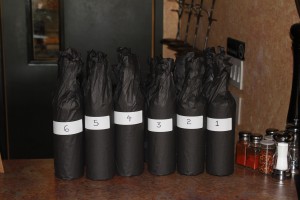 The Zinfandels' were from Lodi, Sonoma, Paso Robles and Napa regions all from California, but each region brings a unique character and style.
Tasting them blind was a challenge to try to match the wines to the regions they came from. Even though we had tasting notes for each of the 6 wines it was very difficult to match up the wine to the notes.
Even in a blind tasting my favorite wine was a Old Vine Zinfandel. My second choice was from the same winery both wines are a big wine aged in American Oak. So the common thread for me is that I like the big, rich, lush, old vine zin's aged in American oak.
Do you find you choose the same flavor notes within a style?