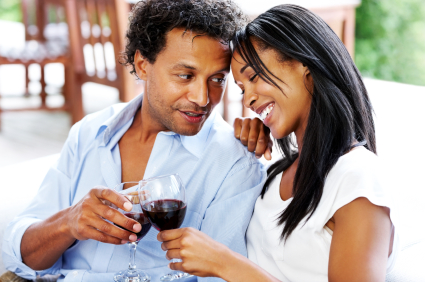 Men and women are different, and, when it comes to wine, men and women don't always think alike or share the same tastes in wine.  Valentine's Day is all about love and making that special someone feel special, so consider that special someone before you give them a Valentine's Day wine gift or choose a wine to share.
Tips for Guys: You may love that big, brawny Cabernet that you drank at the steakhouse last week with the guys, but chances are she won't be so enamored.  Why not appeal to her sensual self and desire for romance with a fine bottle of Champagne or Prosecco?  Many good sparkling wine choices abound, beginning with Magenta Brut – a tasty, reasonably priced traditional style Champagne.  For a fuller, more complex Champagne, consider Joseph Perrier Cuvée Royale Brut.  However, if a lighter and more delicate sparkling wine is in order, any Valdobbiadene Prosecco from Umberto Bortolotti is sure to provide charm and send the message I am thinking of you.  And, if she prefers red, Pinot Noir can say "I love you, too."  There is no shortage of fine Pinot Noir from California on the market.  Fore Family Vineyards, Pietra Santa, and Solomon Hills are just a few producers of excellent fairly priced California Pinot Noir that should appeal to her.
For the Ladies: Men are visual creatures and delight in adventure and surprises.  Power is usually more exciting to them than subtlety, so unless he just can't wait for another glass of the Chardonnay you adore or the delicate, complex Pinot Noir you crave, consider something more appealing to him.  A big, full-bodied Cabernet Sauvignon from California, South Africa or elsewhere that he has never had before will make a statement to him.  Edgebaston GS and Rustenberg John X. Merriman are two of South Africa's finest Cabernet-based wines that should appeal to your guy's senses as well as his taste for adventure.  Châteauneuf-du-Pape and rich Syrah or Shiraz offerings will likely strike his fancy as well.  Domaine du Grand Tinel and Domaine du Vieux Lazaret craft several excellent Châteauneuf-du-Papes worth considering, while Australia, California, and South Africa all produce a bevy of great Syrah/Shiraz. Chapel Hill and Mr. Riggs from South Australia are two Shiraz producers that are hard to beat.
So, guys and gals: compare notes at the end of the evening, taste each other's wines, enjoy the communion, and have a happy Valentine's Day together.
Don