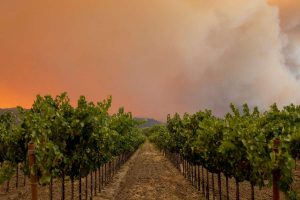 Unless you are one of the hundreds of thousands of people fleeing the flames throughout California wine country, you cannot imagine the intensity of these blazes and the destruction ignited by more than 20,000 dry lightning strikes. As of this writing, this latest round of seasonal California wildfires has claimed seven lives, destroyed 1,200 homes and businesses, burned more than 800,000 acres, and forced mandatory evacuations in the San Francisco Bay area, Napa, Sonoma, Lake and Solano counties just as the grape harvest began. The heavy smoke from these fires threatens to taint the grapes that remain on the vines, and it is already creating the planet's worst air pollution throughout the American West.
Even more frightening is the added specter of Covid-19, which impedes firefighters, first responders, and rescue efforts. And with the need to wear masks and the necessity of social distancing to prevent the spread of the disease, the question arises: How do we support essential workers and house and support the thousands of people whose homes and businesses are under siege? In past years, many of the wineries themselves opened their facilities and fed the multitudes who lost homes and had nowhere else to go. In the midst of the Covid crisis, few wineries or public shelters have space to house more than a tiny number of those seeking safety from the fires, and many of the wineries and vineyards are themselves threatened and are closed.
Spawned by more than 11,000 lightning strikes, the L.N.U. Lightning Complex (the largest and most widespread complex of fires) continues to ravage Napa, Sonoma, Lake, and Solano counties, the source of many of California's iconic wines. Other areas throughout Central and Southern California have also been affected. It is one thing to be aware of a crisis, it is another to take action. What can you and I do to help? Plenty. Although few of us are equipped to fight fires or are too distant to offer shelter, we can support California growers and producers by making a concerted effort to buy and consume California wine, especially wines grown and produced by small family wineries who have the most to lose. And when California winemakers were asked how consumers and the general public could help, they responded by saying "Firefighters are truly on the front lines fighting these fires. They are risking their lives to save others' lives and property. Helping injured firefighters and the families of those who have lost their lives would be the best way to honor these heroes."
If you would like to help, please consider making a donation to the Wildland Firefighter Foundation, a non-profit that is active in all states, by going to www.wffoundation.org. The Wildland Firefighter Foundation has been assisting firefighters and their families since 1994 and has been especially supportive of California wildland firefighters and their families, including those who fought the deadly Camp fire that destroyed Paradise. Any support you can render will go a long way to helping those who help the rest of us stay safe.