White Chicken Chili makes a delicious meal full of spicy chili flavor, white beans and chicken. You'll love this easy White Chicken Chili recipe.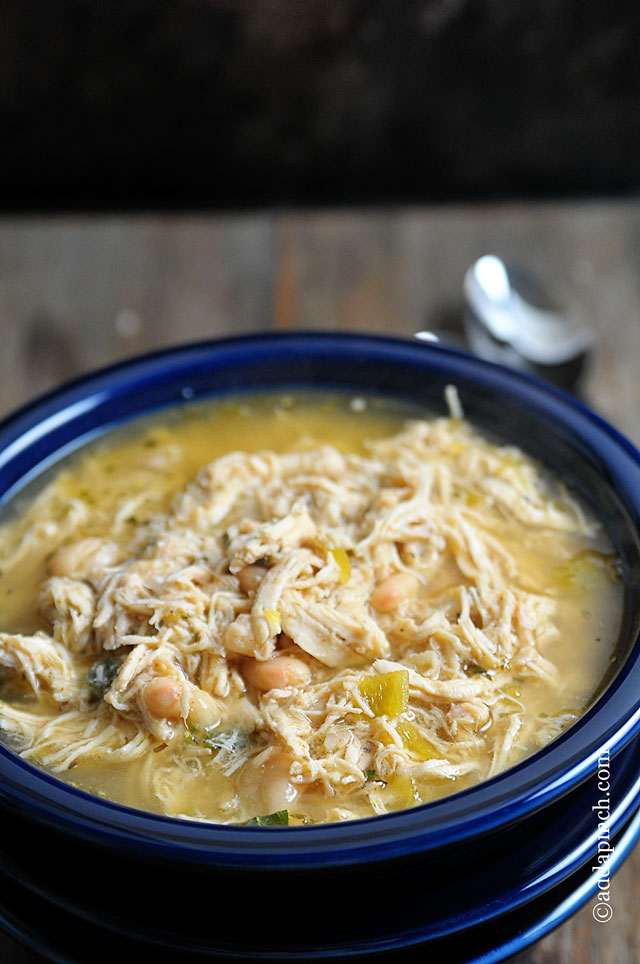 Prep time : 5 mins
Cook time: 30 mins
Total time: 35 mins
Serves: 6-8
Ingredients:
4 skinless, boneless chicken breasts
4 cups chicken stock
1 clove garlic, minced
1 medium onion, diced
1 (15-ounce) can white beans, with liquids from beans
1 (4-ounce) can diced green chilis, with liquids from chilis
1 teaspoon dried oregano
1 teaspoon ground cumin
½ teaspoon chili powder
1 teaspoon salt
1 teaspoon ground black pepper
1 teaspoon chopped fresh oregano
Instructions:
Add chicken to a 4-quart, heavy bottomed Dutch oven or stockpot. Add chicken stock and cook until tender, about 15 minutes. Shred chicken with two forks and then add back to the liquid.
Add garlic and onion to stockpot, white beans, green chilis, dried oregano, cumin, chili powder, salt, pepper, and chopped fresh oregano. Stir until well-combined. Taste for flavor and adjust to your preference.
Simmer over low heat for about 5 minutes. Remove from heat and serve.
Recipe and photo from: www.addapinch.com