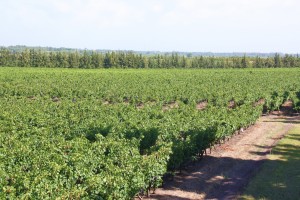 Where do you find the world's best wine values?  I think that depends on one's tastes and how adept a person is at ferreting out wines from relatively unknown viticultural areas.   It never ceases to amaze me how much good wine remains undiscovered and appreciated, simply because they hail from relatively obscure wine regions and undiscovered wineries and wines makers.  Many of the world's good wines, even some of the world's great wines, flow from places not exactly on the tip of everyone's tongue.
Let's take Uruguay for example.  Yes, I do mean that tiny prosperous South American country with a stable democratic government, a temperate climate, and a centuries' old tradition of winemaking – all of which remain hidden from most wine lovers in North America.  Why?  Two reasons appear as culprits.  First, the folks in Uruguay truly enjoy wine and drink most of what they make themselves and secondly, we in the U.S. tend to be mistrustful or at least oblivious to anything we haven't seen highly advertised or rated by a dozen or more critics, whom we tend to believe are more adept at determining our tastes than we are.
Happily, Uruguay is no longer content to keep its best wines to itself.  And Artesana, an ultra-premium producer from Uruguay, is another example of a very good wine producer from a relatively obscure locale.  Artesana recently featured some of their estate wines at the International Wine Bloggers' Conference to considerable acclaim.  Artesana's 2011 Tannat/Merlot comes across as a crowd pleaser, though the winery's more traditional and tannic 2011Tannat (a French grape, which lends its name to the word tannin) shows well, too.  And Artesana is just one of a growing number of producers of fine wines from Uruguay whose wares can now be found in the U.S.  Artesana's wines are well worth seeking out.
Cheers!
Don