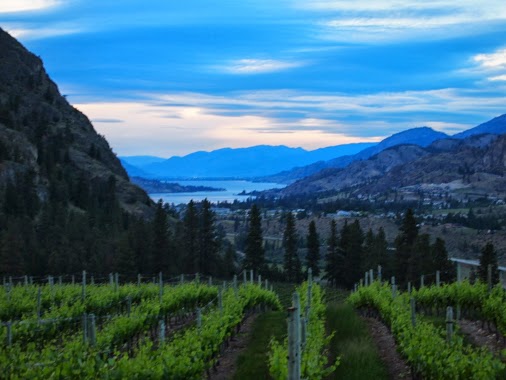 The world's viticultural areas are renowned for their natural beauty as well as their wines, but many have succumbed to crass commercialization and often exude an exulted sense of themselves, but happily not all.  If you truly love wine and are looking for an exciting young wine country with many exceptional wines, plenty of friendly and passionate people, and an unspoiled land that offers a true feast for the eyes as well as the palate, try British Columbia's Okanagan Valley.  Situated in a scenic valley between the coastal mountains and the Canadian Rockies, Okanagan flows north for nearly 125 miles from the border with Washington State to north of Kelowna.  The Okanagan's vines lay primarily on sunny, well drained bench lands that overlook the countryside's deep glacial lakes.  Think Lake Tahoe.  
So, yes indeed, the scenery is knockout beautiful and the Okanagan is serious wine country, too, so what more could you want?  How about 200 fun loving wine bloggers, dozens of winery owners to go along with the picturesque scenery and fine food, the latter emanating from fresh sustainably grown foods from farms nearby!  The organizers' of this year's International Bloggers' Conference, which was held in Penticton, British Columbia, wisely chose to highlight Okanagan during the 2013 International Wine Bloggers' Conference.  Imagine spending four days with 200 passionate wine bloggers, hundreds and hundreds of wines from the Okanagan and from around the world, and passionate winemakers. 
A good time was had by all.  And in case you're wondering, the wines of Okanagan are well worth searching out.  What began earlier this month as a voyage of discovery has already yielded great fruit in the form of many of Canada's most compelling wines.  Stay tuned for more about Okanagan and this year's wine bloggers' conference.
Don