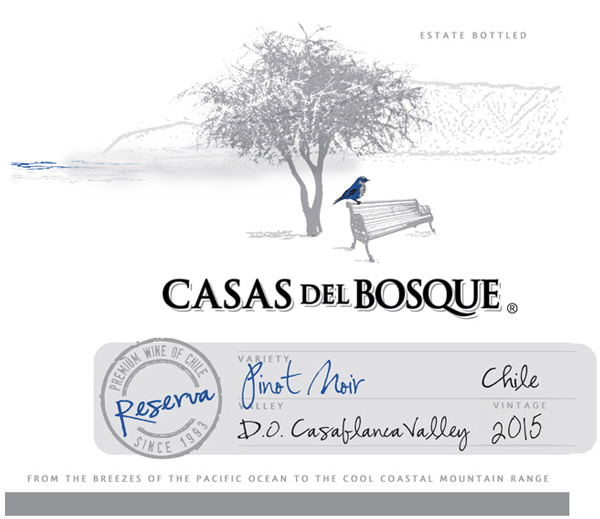 In November, The International Wine of the Month Club's Premier Series offers four exciting wines from around the world. The first is the 2015 Casas del Bosque Reserva Pinot Noir. For centuries France dominated the production of world-class Pinot Noir. Burgundy and Champagne were the only games in town until California and Oregon got in the act, followed by Tasmania and others. Now, it is Chile's turn. Casas del Bosque has fashioned a riveting Pinot in their 2015 Casas del Bosque Reserva Pinot Noir from Casablanca Valley. Medium to full-bodied, this 2015 Pinot offers a savory nose along with plenty of juicy cherry and raspberry flavors, beautiful spice tones, fine texture, and ripe tannins. Youthful, exuberant and full of varietal flavor, it is easy to see why the 2015 Casas del Bosque Reserva Pinot Noir has received numerous 90+ ratings, including 92 Points from James Suckling.
Our next Premier Series feature is Krone's 2015 Borealis Vintage Cuvée Brut. As a real star, this serious sparkling wine shines and sparkles with Champagne flavor and style. Not only is Krone's Borealis Vintage Brut comprised of Champagne's traditional cépage of Chardonnay (60%) and Pinot Noir (40%), whereby only free run juice makes it into the cuvée, the Borealis Vintage Cuvée is totally bottle-fermented Méthode Cap Classique (MCC) in the time-honored Champagne tradition of production. Elegant, flavorful, and delightful to the eye and palate, it is hard to imagine a finer, more affordable Champagne-style sparkling wine than the 2015 Borealis Vintage Cuvée Brut.
Next in this month's quartet is the bold, beautiful 2013 Cambridge Cellars Elsbree Vineyard Russian River Zinfandel. Zinfandel is California's own special variety and there is no better place to find exceptional Zinfandel than in California's Russian River Valley. The 2013 Cambridge Cellars Elsbree Vineyard Russian River Valley Zinfandel provides ample testimony to support that claim, as it is deeply colored, beautifully balanced, vibrant and rich in flavor. One hardly notices the wine's 14.9% alcohol as it delivers up an enticing bouquet of blueberry and black currant fruit, warm spices and hints of black pepper. On the palate, the youthful Elsbree Vineyard Zinfandel exhibits more of its structure, but never loses its composure; this Zin strikes a fine balance between red and black fruits, spice and tannin in the mouth. Best of all, it unfolds quickly in the glass, becoming deeper and more authoritative with each sip.
Rounding out this month's offerings is the 2015 Cantarutti Collio Orientali Ribolla Gialla. This rare varietal from Italy's Collio Orientali offers a rich, eye-catching color and a harmonious aroma redolent with the scents of stone fruits and minerals along with hints of exotic spices. On the palate, the 2015 Cantarutti Ribolla Gialla reveals fine, textured fruit flavors, which provide a more luxurious feel than the more familiar Pinot Grigio and other lighter white wines from northern Italy. Medium-bodied and pleasantly dry, this wine lingers a bit on the palate and ends on a savory note. In typical Collio fashion, a glass of Cantarutti's Ribolla Gialla invokes the beauty and sunshine of summer in Collio.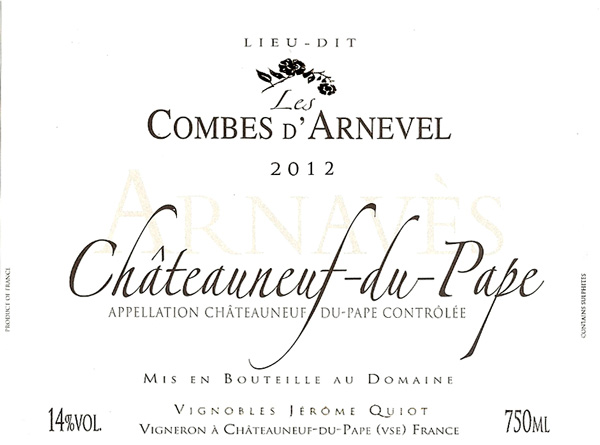 The International Wine of the Month Club's Collectors Series is pleased to offer three beautiful but uniquely different selections in November. The 2012 Combes d'Arnevel Châteauneuf-du-Pape begins this month's odyssey, as it cuts a beautiful figure in the glass and captivates all of the senses. This is a smooth, savory Châteauneuf-du-Pape from Jerome Quiot who in the excellent 2012 vintage has taken full advantage of nature's bounty. Savory scents of black cherry, spring flowers, and Provençal herbs dominate the wine's enchanting bouquet, while hints of garrigue and wild herbs blend with the wine's kirsch-like flavors in the mouth. Medium-bodied and impeccably balanced, the 2012 Les Combes D'Arnevel Châteauneuf-du-Pape happily harkens back to a more traditional style of Châteauneuf-du-Pape.
Our next November Collectors Series offering is the non-vintage Comte Audoin de Dampierre Grande Cuvée Brut, a serious, complex Champagne that offers a delicate and persistent mousse, exquisite texture, delicious fruit, and pinpoint minerality, all of which render Dampierre's Grande Cuvée irresistibly delicious. Both zesty and compelling in aroma and flavor, the Dampierre Grande Cuvée is a wine that can be enjoyed at any time of day. Pour a glass of Dampierre's Grande Cuvée, take a sip, and then allow this elixir to bloom in the glass like a flower unfolds on a warm spring day. No wonder this Champagne earns high marks everywhere it goes.
Rounding out or should we say filling out this month's Collectors Series is the 2013 Shatter Côtes de Catalanes Grenache from the South of France. This bold red tops out at 15.6% alcohol, but one wouldn't know it from tasting it… that is until one had consumed a good bit of it. Rich, robust, but smooth on the palate, the opaque, nearly black 2013 Shatter offers up an enticing aroma of dark cherries and ripe plums infused with a light, pleasant herbal quality. In the mouth, Shatter is unctuous, rich, and robust, as its opulent fruit appears front and center before being artfully framed by ripe tannins and just the right touch of oak. Layered, long and lingering on the palate, the 2013 Shatter Grenache is no wilting flower.
Salud!
Don