In January, The International Wine of the Month Club's Premier Series is proud to offer members four special wines from Italy and France. To begin this month's odyssey, we travel first to Italy where you will discover Sergio Gomba's 2015 Querciola Barbera d'Alba, a wine that underscores Gomba's hot hand with Barbera and highlights his ability to consistently fashion rich, velvety Barbera d'Alba that is both mouth-filling and easy to drink. The 2015 vintage in Piemonte yielded exceptional Barberas, wines that are both rich in fruit and firmly structured. Gomba's 2015 Querciola Barbera d'Alba expresses the sensual side of Barbera. It offers up a savory aroma that reminds us of the finest traditional Barbera wines of yesteryear. Gomba fashions his Barbera d'Alba to be drunk young, yet with the ability to age beautifully in the bottle for five or six years. The wine's deep ruby and purple color exudes savory scents of ripe Bing cherries, lavender, plum, violets, and woodland berries. In the mouth, the wine's captivating aromas seep into the flavors of the wine and glide easily across the tongue and around the mouth in an offering of beautiful Barbera fruit along with deft touches of spice – all held together by ripe tannins.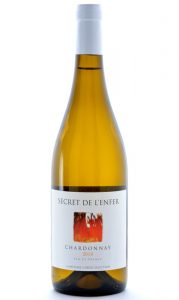 Our next feature this month hails from France and a secluded mountain vineyard in the South of France – the 2016 Secret de L'Enfer Chardonnay. This Chardonnay puts many Mâcon and New World Chardonnays to shame. It relies upon beautifully ripe Chardonnay fruit grown in a mineral-rich terroir for its flavor rather than on copious amounts of toasted oak and a host of other "smoke and mirrors." Apple, pear, and apricot scents mingled with the aroma of freshly baked bread waft from the glass. Fresh, energetic, and wonderfully varietal in flavor, the 2016 Secret de L'Enfer Chardonnay expands in the mouth, offering the savory flavors of orchard fruits along with a delightful minerality born of the vineyard's exceptional terroir. Pinpoint precision and balanced acidity provide a moderately long finish, all of which add to the wine's overall appeal. Uncomplicated, but not simple, the 2016 Secret de L'Enfer Chardonnay is a natural tasting Chardonnay that could easily be mistaken for a very fine white Burgundy: it exemplifies the varietal and provides plenty of drinking pleasure without the preponderance of oak.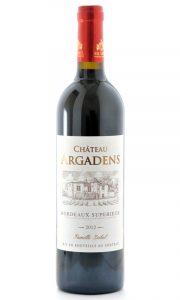 This month's next venture is the 2012 Château Argadens Bordeaux Supérieur, a wine wrapped in a beautiful ruby and garnet robe. The 2012 Château Argadens presents itself as the poster child for Right Bank Bordeaux. This delicious blend of 63% Merlot, 32% Cabernet Sauvignon, and 5% Cabernet Franc offers generous fruit, surprising complexity and supple balance, which have no doubt contributed to the consistently high marks this wine has earned in tastings and competitions. Enticing aromas of boysenberry, cassis (also known as blackcurrant), cedar and spice waft from the glass. At first, this wine appears light, lovely, and eminently drinkable in the mouth, but there is more to come so there is no need to rush this well-crafted Bordeaux as red and black berry fruit flavors backed by seductive earth tones and velvety tannins emerge with a bit of aeration.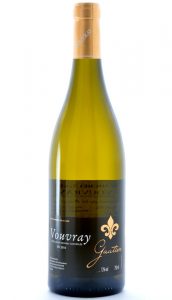 Rounding out this month's Premier Series is the vibrant 2016 Domaine de la Racauderie Gautier Vouvray Sec. When the sun shines in the Loire Valley and the weather cooperates from bud break to harvest, as it did in 2016, Vouvray produces some of France's greatest white wines as well as a bevy of exceptional values. We found no better example of this quality and value in Chenin Blanc than the 2016 Domaine de la Racauderie Gautier Vouvray Sec. From Gautier's 2016 Vouvray Sec a pale sun-kissed robe delights the eye, but what is even more striking is the wine's hauntingly beautiful aroma, an ethereal combination of stone fruits, orchard fruits, dried honey, and a distinctive minerality born of Vouvray's limestone-rich tufa soil. In the mouth, the wine's bouquet is born again. Delicate layers of flavor bearing hints of pear and quince glide across the palate, while a sensual minerality provides additional texture. As the wine makes its exit down the thirsty throat, a bright, balanced acidity refreshes the palate. Enjoy!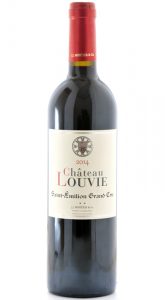 The International Wine of the Month Club's Collectors Series is proud to begin 2018 with three exceptional French and Italian wines from three of the planet's finest appellations and producers. The 2014 Château Louvie Saint-Émilion Grand Cru makes a persuasive case for two of Bordeaux's most prestigious grapes: Merlot and Cabernet Franc. Deep in color and rich in flavor, this juicy, velvety offering exhibits all of the attributes of the very best Saint-Émilion Grand Cru. The youthful, yet already compelling, 2014 Château Louvie combines opulence with palate-pleasing flavors. Beguiling berry, cassis, and woodland scents waft from the glass to make the mouth water. Not surprisingly, these savory scents reappear in the mouth, expand, and cling to the palate in the most delightful way, but what may be most impressive about Château Louvie's Saint-Émilion Grand Cru is the wine's velvety texture. It possesses a wonderful mouthfeel. Sensual, yet structured, this smooth, vinous, bold-flavored wine continues to evolve in the glass for hours. It's hard to ask for more in a young Bordeaux Saint-Émilion Grand Cru. The 2014 Château Louvie offers both fine near term drinking and the potential to age gracefully for up to a decade.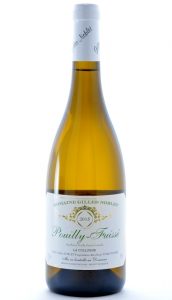 Next up is the delightful 2015 Domaine Gilles Noblet Pouilly-Fuissé. The 2014 and 2015 vintages in Pouilly-Fuissé have been heralded as the finest back to back vintages in Burgundy's Mâcon in a generation, and in the case of Gilles Noblet's incomparable 2015 Pouilly-Fuissé La Collonge it is unquestionably the finest wine we have encountered from this award-winning estate, which Wine Spectator has previously featured on its Top 100 List. Noblet himself has stated: "The 2015 Mâcon wines are the finest I have produced in 37 years," which is high praise from a consummate winemaker not given to brash statements or hyperbole. Given the vintage's shy yield and Noblet's strict selection and insistence on quality over quantity, the 2015 Domaine Gilles Noblet Pouilly-Fuissé offers greater concentration than usual, yet the same bright sun-kissed robe and amplifying aromatics that one has come to expect in Gilles Noblet's Pouilly-Fuissé are front and center. In fact, the wine is even better than it was last year upon first release. The wine's seductive aroma of acacia blossoms, mountain apples, melon, and soft mineral tones are coupled with a seductive mid-palate and luxurious texture. Ripe fleshy fruit, pinpoint minerality, and a delightfully racy finish balanced by just the right amount of acidity to match the fruit render the 2015 Domaine Gilles Noblet Pouilly-Fuissé a clear standout.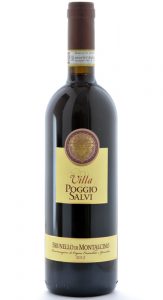 Completing this month's Collectors Series is the 2012 Poggio Salvi Brunello di Montalcino. The first impression one receives of Poggio Salvi's highly acclaimed 2012 Brunello di Montalcino is the wine's intense, nearly opaque ruby red color. Yet, as eye-appealing as this wine appears, it offers much more than visual appeal. Scents of wild red berries, baking spices, lavender and new leather begin to waft from the glass soon after opening. Although initially reticent like all young Brunellos, the 2012 Poggio Salvi blossoms with aeration, slowly unfolding with each sip. Flavorful but elegant, black cherry, plum, and star anise flavors emerge on the palate, where they mingle with touches of nutmeg, balsamic notes, and fine grained tannins to attest to why Brunello di Montalcino is one of Italy's most sought after wines and why Poggio Salvi reigns as one of the appellation's finest practitioners. Enjoy!