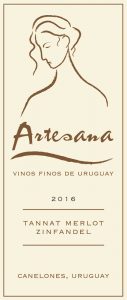 In December, The International Wine of the Month Club's Premier Series is proud to offer our members four special, highly allocated wines. The 2016 Artesana Tannat Merlot Zinfandel emanates from the diminutive but highly acclaimed Artesana winery, which was named Uruguay Winery of the Year 2017 by the New York International Wine Competition. Artesana is also the only winery in Uruguay to cultivate Zinfandel, America's unique grape varietal. In the hands of two highly skilled women, Analía Lazaneo and Valentina Gatti, this unique offering combines power and panache in one bold, flavor-packed wine. The 2016 Artesana Tannat Merlot Zinfandel exhibits a deep purple, nearly opaque, color that foreshadows the wine's depth and extraction. More impressive still is the wine's heady bouquet of ripe black fruits, fig, dark chocolate and spice. Although delightfully scented and intriguing in aroma, the 2016 Artesana Tannat Merlot Zinfandel truly comes to fore on the palate, where it offers plenty of mouth-filling flavors in the form of crushed black and red berries, bramble, chocolate and coffee along with hints of aromatic woods, all backed by ripe, sensuous tannins.
Our next feature this month hails from northern Italy and the renowned Stefano Massone, who never fails to turn in a first rate performance in fashioning exceptional Gavi. Nevertheless, Massone's 2016 San Cristoforo Gavi di Gavi may rank as the finest he has ever produced. A glass of Massone's San Cristoforo epitomizes the Cortese grape's finest attributes: elegance, finesse, and laser-like flavors. The 2016 Massone San Cristoforo Gavi di Gavi offers a beautiful straw-colored robe and delicate perfume resplendent with the scents of freshly squeezed grapes, acacia flowers and lemon/lime zest. And of course there is Gavi's calling card – a refreshing finish, so reminiscent of the mineral-rich waters of a cold mountain stream. Add a soft but refreshing mid-palate and impeccable balance to the wine's racy finish and Stefano Massone's 2016 San Cristoforo Gavi di Gavi truly shines.
This month's next venture is the 2015 Jacques Girardin Bourgogne Pinot Noir Vieilles Vignes. Jacques Girardin consistently fashions authentic, elegant red Burgundy, but his latest release, the 2015 Domaine Jacques Girardin Bourgogne Pinot Noir Vieilles Vignes, may be the finest value in all red Burgundy. Born during the exceptional 2015 vintage, the 2015 Jacques Girardin Bourgogne Pinot Noir Vieilles Vignes is fresh, supple, and downright seductive. Elegance and finesse are this wine's calling cards, as it offers up an enticing bouquet of red and black currants, cherries, and wild woodland berries. Although lithe and delicate in structure, it never lacks for character or flavor. Pure fruit and berry flavors mingle with subtle touches of spice and Burgundian earth to satisfy the palate. In short, this Vieilles Vignes Burgundy Pinot Noir from 50+ year old vines exemplifies the delicacy and finesse inherent in authentic Burgundian Pinot Noir.
Rounding out this month's Premier Series is the vibrant 2016 Château La Gabarre Bordeaux Blanc. A tiny production, the 2016 Château La Gabarre Bordeaux Blanc is a classic full-flavored blend of Sauvignon Blanc and Semillon. Vinified in stainless steel for maximum freshness, it offers the taster a delightful draft of traditional Bordeaux Blanc. The preponderance of Sauvignon Blanc gives the wine its attractive aromatic profile, while Semillon provides additional body, texture, and a smoother, longer mid-palate and finish. Redolent with savory notes of ripe melon, citrus and white peach, the 2016 La Gabarre Bordeaux Blanc captures the nose with its enticing bouquet. The wine's sensual appeal continues in the mouth, where deep drafts of melon, citrus and minerals combine to embrace the palate. If you are looking for an innocuous white wine with a fade-away finish, you will want to look elsewhere: the 2016 Château La Gabarre Bordeaux Blanc is anything but a wallflower. It embodies flavor, freshness, and vivacity.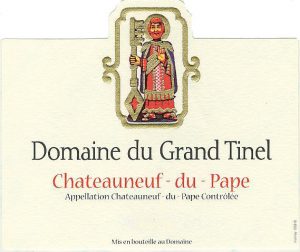 The International Wine of the Month Club's Collectors Series is proud to offer our members three additional world-class wines this month beginning with the 2015 Domaine du Grand Tinel Châteauneuf-du-Pape. The 2015 Domaine du Grand Tinel Châteauneuf-du-Pape emanates from the finest vintage in the southern Rhône Valley since 2010 and constitutes another outstanding effort from Grand Tinel, which is arguably one of Châteauneuf-du-Pape's most consistently high performing estates. Ripe cherries, kirsch, spice, plum, and hints of savory herbs abound in the bouquet. In the mouth, deep flavors mixed with Provençal herbs, fennel, and smoked meat flavors entertain the palate, while fine grained tannins provide a long, satisfying finish that bodes well for the wine's longevity. Although powerful and full-bodied on account of traditional winemaking and the predominance of old vine Grenache (70%), Syrah (25%), and Mourvèdre (5%), the 2015 Grand Tinel exhibits a brightness and suavity that also allow it to drink well young.
Next up is the mouthwatering 2015 Fore Family Vineyards Napa Valley Carneros Albariño from the Stewart Vineyard. In true Fore Family fashion, the winery's debut vintage of Albariño offers plenty of bold flavors and is anything but a light, wimpy white wine. With an inviting gleam the color of sunshine and enticing aromas of pit fruits, lemon zest, and honeysuckle, this 2015 Fore Family Albariño welcomes the taster from the moment it is poured. More aromatic and structured than its Spanish counterparts, Fore Family's 2015 Albariño nevertheless retains Albariño's bright acidity and distinct minerality, which render it one satisfying and refreshing white wine, and a welcome alternative to Chardonnay. In the mouth, one encounters a wealth of fruit, pit, and stone flavors that are superbly rendered on a sea of bright acidity. Balanced, bold, and vivacious, the Fore Family's first venture with Albariño is sure to make heads turn.
Completing this month's Collectors Series is the 2014 Fore Family Vineyards Napa Valley Meister Vineyard Merlot. With this Merlot, put aside any preconceived notions about Merlot being a light, less than stalwart companion to Cabernet. In Fore Family's 2014 Meister Vineyard Merlot, a deep, nearly impenetrable color underscores this wine's hearty structure and extroverted personality. Ripe but firm tannins underpin layers of rich cassis fruit, hints of tobacco leaf, and cacao in the nose and flavor profile of this wine, calling to mind the finest Merlot based wines of Bordeaux's legendary St. Émilion appellation. Enjoy!