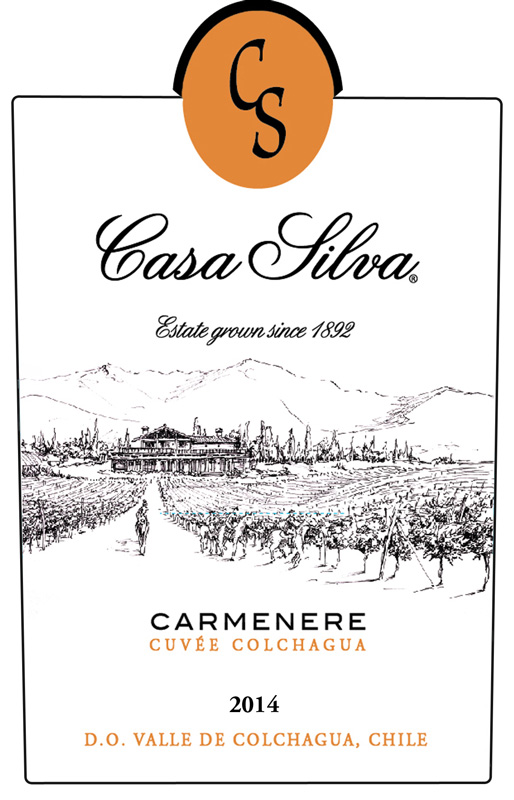 Each month The International Wine of the Month Club strives to deliver the very finest quality and highest value wines from around the world to our members. This month of December, we are especially pleased with the rich and varied selection of wines The International Wine of the Month Club's Premier Series has to offer. The first is the 2014 Casa Silva Cuvée Colchagua Carmenère, an outstanding blend of Carmenère from estate vineyards that earned 90 Points from Wine Spectator and other magazines and critics. The 2014 Casa Silva Cuvée Colchagua exhibits Carmenère's deep purple color with ruby highlights and provides a feast for the nose as well as the palate. From the moment it splashes into the glass, it offers up a heady bouquet of rich red fruits, ripe blackberries, red bell peppers, woodland herbs, and subtle spices that prepare the palate for the rich cornucopia of flavors that will soon grace the mouth: forest berries mingle with subtle earth tones and delicate notes of coffee and dark chocolate, all wrapped in ripe tannins. From Casa Silva and their renowned oenologist Mario Geise, dubbed The King of Caremenère, it is hard to imagine a more exciting young Carmenère than the 2014 Casa Silva Cuvée Colchagua.
Our next Premier Series feature is either the 2014 or 2015 Mura Cheremi Vermentino di Gallura from the mystical island of Sardinia where the Vermentino varietal produces outstanding white wine. Both the 2014 and 2015 vintages of Mura Cheremi Vermentino di Gallura impress with their rich straw color, amplifying aromatics, and full-bodied structure. Floral notes with hints of summer flowers, lychee, and citrus blossoms dominate the nose, before they flow effortlessly into the wine's flavor profile. On the palate, crisp acidity and pinpoint minerality meet Cheremi's floral freshness, adding an entirely new dimension to this wine, which finishes dry and with real authority. The 2014 Mura Cheremi Vermentino di Gallura received 90 points from Vinous and Italian wine expert Antonio Galloni and the newly released 2015 Mura Cheremi Vermentino di Gallura is every bit as compelling as the 2014.
Next in this month's quartet is the 2015 Domaine de Servans Côtes du Rhône, a classically wrought Côtes-du-Rhône that is pure pleasure to drink. All of the grapes for this wine were organically grown and harvested from two different parcels from around the domain and a nearby vineyard. With a high percentage of Syrah in the 2015 Domaine de Servans Côtes du Rhône, this wine displays depth and concentration. In the mouth, rich blackberry notes give way to deep red cherry flavors and touches of black pepper and spice. Even with the wine's concentration and youthful power, its tannins remain very supple and round in the finish. In short, we would be hard-pressed to find a more delightful young Côtes-du- Rhône than the 2015 Domaine de Servans.
Rounding out this month's offerings is the 2015 Dei Martiena, a highly allocated, tiny production white wine from one of Tuscany's most renowned estates. The impressive 2015 Dei Martiena captures the glow and positive energy that radiates from Caterina Dei and her beloved estate. We first discovered Martiena at lunch with Caterina Dei at her winery and thought it one of Montepulciano's best kept secrets. While there is no shortage of wonderful Tuscan reds, fine Tuscan white wines such as Martiena are harder to come by. The 2015 Martiena positively glows in the glass. Even more impressive is Martiena's fresh, vitalizing aromatics: soft scents of apple, yellow plum and wild flowers. In the mouth the 2015 Martiena refreshes the palate and enlivens the senses with a beautiful combination of fruit, minerals, and bright acidity, all of which tantalize the tongue and exit with the sensual energy of a well-sung aria.
The International Wine of the Month Club's Collectors Series is pleased to offer three exceptional and uniquely different selections in December. The 2009 Valenciso Rioja Reserva leads this month's selection, a wine that embodies much of the confidence, personality, and charm of master winemaker Luis Valentin, one of the most engaging and meticulous winemakers we have ever encountered. The newly released 2009 Valenciso Rioja Reserva was awarded a Gold Medal at the Sommelier Wine Awards, the UK's first point of reference for the trade. The warmer than average 2009 vintage yielded a very expansive 2009 Valenciso Reserva, a wine with a nose that works its magic from the moment it is poured and never stops expanding. The bouquet alone on this Valenciso Reserva is worth the price of admission. Produced from 100% Tempranillo, this Rioja delights the nose with savory scents of red and black fruits, woodland berries, sandalwood, violets, cinnamon and other exotic spices. In the mouth, the wine displays a beautiful, super smooth texture as it unfolds slowly and persistently in true Rioja Alta fashion to reveal a wellspring of fruit, spice, and warm wood flavors. Moreover, layers of complex flavors tantalize the palate and linger long after the wine slips down the throat. Once again, Valenciso's Reserva strikes the ideal balance between fruit and structure, characteristics that have consistently earned Valenciso international acclaim and 90+ ratings year in and year out.
Our next December Collectors Series offering is the bold, full-bodied 2014 Miner Napa Valley Chardonnay, a wine that earned Gold in the 2016 New York Wine Competition. Miner's 2014 Napa Valley Chardonnay is sourced from select low-yielding vineyards in Napa Valley and offers everything one could ask for in Napa Valley Chardonnay. It provides an enticing set of aromatics followed by golden apple, ripe honeydew melon and zesty citrus flavors, all gently balanced by deft touches of sweet butter and toasty French oak. In addition, veteran winemakers Gary Brookman and Stacy Vogel use malolactic fermentation in moderation to retain the wine's bright acidity, a practice that adds complexity and lift to the wine's lush concentrated flavors. Since 2013, the Riedel Wine Glass Company exclusively uses Miner Family wines at its proprietary comparative glassware tasting events and at select events officially endorsed by the Riedel name in the United States.
Rounding out or should we say filling out this month's Collectors Series is the 2014 Nugan Estate Alfredo Dried Grape Shiraz, a deep purple potion made in the style of Italy's legendary Amarone. The 2014 Nugan Estate Alfredo Dried Grape Shiraz not only sports the deep nearly impenetrable robe and power of traditional Amarone, it trumps many of Italy's more renowned Amarone in both aroma and depth of flavor. With thirty minutes of aeration, Nugan's Dried Grape Shiraz offers up an electrifying perfume of blackcurrant, dried cherry, rose petal, and forest woodlands. Even more satisfying is how this wine fills the mouth with layer upon layer of deep juicy liqueur-like flavors that satiate the senses. Thick and rich, but not sweet, the 2014 Nugan Alfredo Dried Grape Shiraz offers spectacular fruit, velvety tannins, and a long satisfying finish that just won't quit. Not surprisingly, the highly allocated 2014 Nugan Alfredo Dried Grape Shiraz follows in the footsteps of its predecessors, all of which have garnered high praise from critics and 90+ ratings.
Salud!
Don