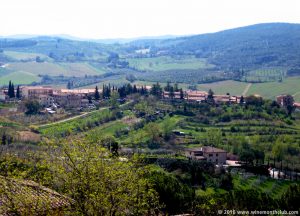 Montepulciano is one of the world's great wine towns. Even when legions of wine-thirsty tourists descend upon the Tuscan hill town of Montepulciano, it manages to retain its charm and characteristic medieval feel. In fact, this bustling town is a strollers' paradise, replete with flower bedecked alleyways and steep steps in place of streets. And thanks to a ban on vehicles in much of the old town, one comes to quickly understand how Montepulciano emerged a "Pearl of the 16th Century." Set on a steep hill between the Val di Chiana and the Val d'Orcia, Montepulciano is the center of the thriving DOCG (Controlled and Guaranteed Denomination of Origin) of Vino Nobile di Montepulciano, one of the greatest and oldest names in Italian wine.
The "noble wine" of Montepulciano has enjoyed its renowned reputation ever since the year 790. Even in the early medieval period, the "Vino Nobile" of Montepulciano was highly sought after, even outside of Montepulciano and the surrounding area. In 1549, Sante Lancerio, maître de chaîne to Pope Paul III, called the noble wine of Montepulciano "Vino perfettissimo da Signori" or the Preferred Wine of the Nobility. It was, however, the 17th century doctor and poet Francesco Redi, who established the reputation of the Nobile of Montepulciano as "The King of all Wine." The name "Nobile" dates from the era when higher quality wines were exclusively reserved for noble families.
Today, Vino Nobile di Montepulciano remains a special wine. Vino Nobile's primary grape variety is the local Prugnolo Gentile, a unique clone of Tuscan Sangiovese, which must comprise a minimum 70% of any wine that bears the title of Vino Nobile. Many point to Prugnolo Gentile as the determining factor in the quality quotient of Vino Nobile. And with the supreme polish and depth of flavor that one sees in the finest Vino Nobile di Montepulciano, it would be hard to refute the claim. Since 1980, Vino Nobile di Montepulciano has enjoyed the distinction of DOCG status, one of the first wines in Italy to be so named.
In order to be called Vino Nobile di Montepulciano, a wine must, also, be matured in wooden casks for at least two years, starting from the 1st of January following the harvest. After maturing for three years, Vino Nobile is entitled to be called "Riserva." Prugnolo Gentile must always be the primary grape variety, but other traditional Tuscan varieties such as Malvasia Nero, Canaiolo Nero, Colorino, and Mammolo are also permitted. Small amounts of Merlot and Cabernet are now legal in Vino Nobile as well.