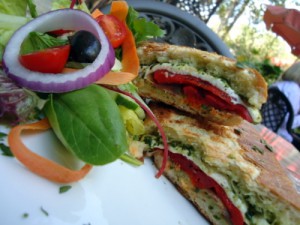 1 loaf round (boule) crusty bread – sliced
1 zucchini -sliced
1 bunch fresh basil leaves
1 small eggplant – sliced
1 red bell pepper – sliced
1 large tomato – sliced
olive oil
salt & pepper
Brush zucchini, eggplant and red pepper with olive oil, sprinkle with salt and pepper. Grill vegetables until well cooked (even a little charred is okay). On one side of bread, drizzle olive oil, line with basil leaves, top with mozzarella, grilled vegetables and then tomato slices and top with another piece of bread. Place on a grill pan or in a panini press and cook over medium high heat for 5 minutes on each side or until cheese is melted.