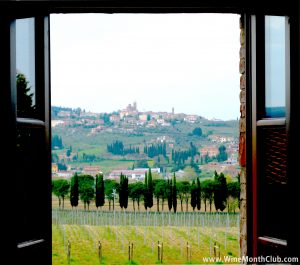 Tuscany enjoys a unique position in Italy. Located in the center of the Italian peninsula, its cities, culture, and people have existed for thousands of years. Drawing strength from its ancient Etruscan origin, which lent Rome its ability to build and engineer feats of unparalleled proportion, the inhabitants of Tuscany have shaped an austere, mystifyingly beautiful countryside into a rich, fecund land. In harmony with a singularly beautiful land that has been inexorably shaped throughout the centuries by the finest human artistry, Tuscans have created a nearly ideal world in which agriculture, architecture, art, thought, and of course wine continue to form one seamless vital union.
Moreover, during no time in its thousands of years of existence have the wines of Tuscany been better than they are today. Whether one enters Tuscany from the south, driving north from Rome, or discovers Tuscany from any number of small country roads that head south from Emilia-Romagna, it is almost impossible not to know that one has entered a special land. Wooded mountains and valleys, full of oak and pine, and a sea of vines that traverse the hills greet the fortunate traveler to Tuscany. From the sight of the land, it is easy to understand why Tuscany is one of the most important wine producing regions in the world. Likewise, it is equally difficult to comprehend the simple truth – that Tuscany, with its multitude of great wines and illustrious place names, is not one of Italy's most prolific wine producing regions. In Tuscany, quality, not quantity, holds sway. The great wines of Tuscany are by and large artisanal affairs, produced by families, visionaries, and small groups of very dedicated men and women.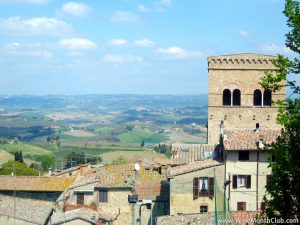 The most expensive and renowned names in Tuscan wine are Brunello di Montalcino – a complex, garnet colored wine from the hills surrounding the precipitous town of Montalcino – and the extraordinary Super Tuscan blends of Tuscany's Bolgheri. Carmignano and Vino Nobile di Montepulciano are two other ancient names whose fame dates conclusively from the early Middle Ages. And, nowhere in Tuscany or anywhere else in Italy for that matter is better wine being made at prices that one can still afford than in Carmignano and Vino Nobile di Montepulciano. Chianti and Chianti Classico, the two most recognizable names in Italian wine, provide a trove of exciting wines, too. Equally important, Tuscany fashions wonderful Vernaccia di San Gimignano, Vin Santo, and a plethora of delicious IGT Rosso and Bianco wines, which Tuscany bestows upon a thirsty world.