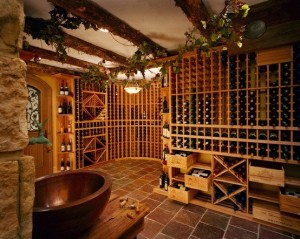 As the Holidays approach my thoughts turn to the meaning and purpose of the season.  My taste buds, however, veer straight to the most venerable part of my wine cellar where the most mature and memorable wines await coveted invitations to grace holiday tables.
The season between Thanksgiving and New Years is rich with occasions to share the finest wines one has to offer.  It's also the ideal time to consider giving the gift of wine.  Yes, I am quite predictable; I like to offer wine to those who enjoy it or even to those have never found a wine they liked.  The latter are often the most fun because rare is the person who has tasted enough wine to justify the aversion.  I thrive on the challenge, and I am thrilled when a wine illuminates the senses and captures the noses and palates of theretofore non-believers.
So, few are surprised when I arrive at their doorsteps bearing gifts of Bordeaux and Barolo, Chardonnay and Champagne.  Perhaps, my friends and family are just being polite, but invariably the bottles all lay empty by the end of the evening or disappear within a matter of days from the wine rack where they were put to rest.  So, I will continue to share the fruits of my labor and come bearing gifts that I hope will be akin to liquid gold, aromatic intrigue, and sensual delight.  In truth, it's my way of sharing a little bit of what's good and even special about life during the hectic Holiday Season.  It's also my way of saying thank you for the many gifts I have received in life from family, friends, and acquaintances.
A votre santé
Don