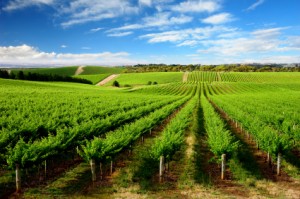 Barolo has affectionately been referred to as the "King of Wines, and the Wine of Kings."  In a fine vintage and in the hands of a skilled winemaker, Barolo is unquestionably a noble wine fit for a king and the rest of us commoners, too.  For savvy consumers who are patient enough to afford Barolo the royal treatment or even just a little extra care, no other fine wine on the market offers more quality for the money as Barolo.
Barolo is born on the Langhe Hills of Italy's Piedmont, on steep craggy Alpine foothills as they tumble out of nearby Switzerland and France.  Barolo is the most masculine of Piedmont's great Nebbiolo based wines and the focal point in the region's viticultural tiara.  Barolo's lineage dates back to the Middle Ages, but it wasn't until the mid 18th century that Barolo began to evolve into its present form in the vicinity of Alba, a distinct Old World city that serves as the white truffle capital of Italy as well as Piedmont's premier wine town.
Today, the limited production of Barolo generates from the huddled hills of two valleys, Serralunga and Barolo, and their five principal communities, all of which lie to the southwest of the city of Alba and are reputed to impart distinctive characteristics and traits to their respective progeny.  The townships of Serralunga, Castiglione Falletto, and Monforte are situated in the Serralunga Valley and are reputed to produce the region's most masculine, longest-lived Baroli.  Meanwhile, Barolo and La Morra, from which the more "delicate" wines of the zone are said to flow, are part of the Barolo Valley.  However, there are many exceptions, styles, and innumerable variations in Barolo on the same theme, and this only touches upon the decades old debate in Barolo over the relative merits of the modern versus traditional styles of Barolo, which have as much to do with individual winemaking techniques as they do the amount and kind of barrel aging the wines receive.  Happily, in the end, there is great Barolo fashioned in all five of the major townships, in both modern and traditional styles.  However, there is one caveat.  Barolo needs time in bottle; and whether it is young or mature, Barolo needs to breathe.  Decant a Barolo two hours or more before serving and the magic will soon appear in your glass.
Don