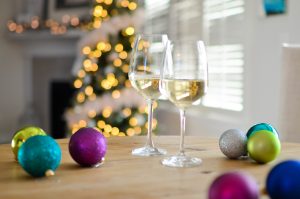 It seems that everyone wants to sell us something, almost everything in fact, before the holidays. And similarly, there is no shortage of pundits to advise us on what we should buy; this is especially true of wine. Unsolicited or not, I am repeatedly asked by friends, acquaintances, and even total strangers what wine I recommend they serve and pair with their holiday dinner.
My answer to the inevitable holiday wine pairing question is this:
What are you serving and what do you like?
I can't, nor should I, tell you what you like, but I may be able to offer some suggestions based upon decades of experience as to what wine and food pairings tend to please most people's palates, so below is a stab at answering the question.
Poultry
With poultry, whether turkey, chicken or duck, light reds and full-bodied white wines make good companions. Pinot Noir, red burgundy, and Beaujolais Villages work especially well with poultry. Pinot Noirs from California's Russian River, Santa Lucia Highlands, and Santa Rita Hills appellations as well as Oregon's Willamette Valley tend to get the highest marks. Some tried and true Pinot producers to consider are Benovia, Walt, Bethel Heights, and Bergström, among others. As for Beaujolais fans, they will want to consider Janodet's excellent Beaujolais Villages or a cru Beaujolais from one of the appellation's 10 cru villages. California Zinfandel also merits two thumbs up. Similarly, Chardonnay lovers have a wide array of producers and wine styles from which to choose. Excellently crafted oak-aged Chardonnays from Benovia, Chappellet, and Morgan are readily available and garner considerable acclaim from critics and consumers alike. For more mineral and terroir-driven Chardonnays, consider serving a Pouilly-Fuissé from the likes of Domaine Gilles Noblet or other premium Mâcon producers.
Seafood
If seafood is on the menu, Pouilly-Fuissé, Mâcon-Fuissé and Mâcon Villages Chardonnays are again top crowd pleasers, but I would not overlook the delicious Gavis from La Giustiniana Lugarara or Stefano Massone, as they provide equally compelling companionship to fish and shellfish with more body and character than Pinot Grigio.
Meat & Vegetables
If meat and hearty vegetarian dishes grace your holiday table, the world of wine is at your fingertips. Big reds such as Bordeaux, Cabernet Sauvignon, Châteauneuf-du-Pape, Malbec, Meritage offerings, Ribera del Duero, Rioja, and Super Tuscans all shine with beef, lamb, and other red meats. There is no shortage of eligible candidates from among that list, though several producers stand out for quality and consistency: Chappellet, Domaine du Vieux Lazaret, Domaine Grand Tinel, Round Pond, Luca, Tikal, Dominio Basconcillos, Valenciso, and Urlari, to name just a few.
Cheese, Pasta, Pork & More
With cheese, pasta, pork, and tomato-based dishes, consider a delicious Côtes-du-Rhône from Chamford or Guigal, a Ventoux from Domaine de Vieux Lazaret, or a rich Petite Sirah from D. Pfaff, Carmen, or Peltier, but as you like it because the holidays and life itself are too short to drink wine you don't like or someone else's palate.
Merry Christmas, Happy Hanukkah, and the safest of Holidays,
Don