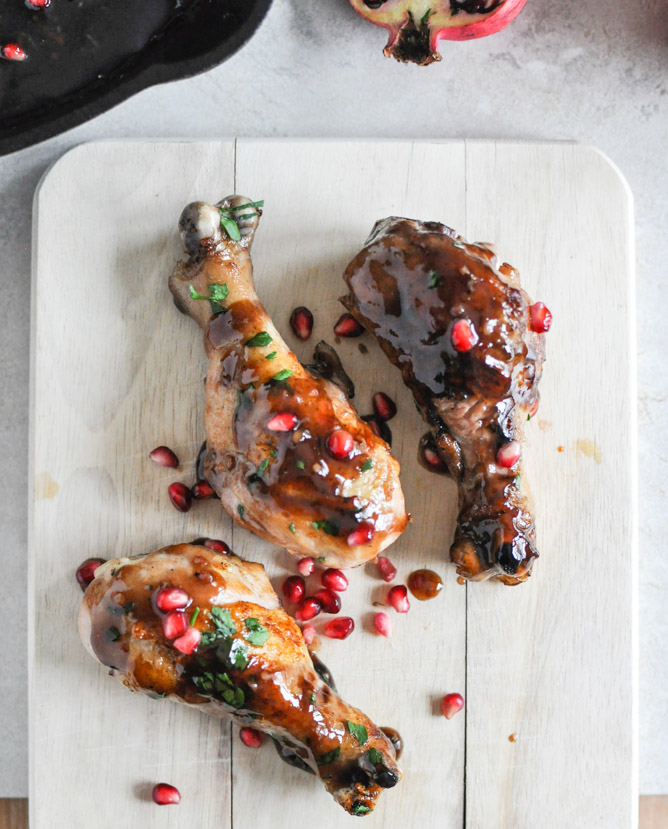 This recipe for Sweet and Sticky Pomegranate Chicken may seem complicated but it's actually very quick and really easy to make. Serve it with some rice for an easy dinner for serve them as an appetizer at your next holiday party or for game day!
Ingredients:
2 pounds chicken wings or legs
2 tablespoons olive oil
1/2 teaspoon salt
1/2 teaspoon pepper
1/2 cup sweet chili sauce
1/3 cup pomegranate juice
1/4 cup rice wine vinegar
3 tablespoons brown sugar
1/2 tablespoon soy sauce
1 lime, juiced
3 garlic cloves, minced or pressed
pomegranate arils for garnish
freshly chopped parsley for garnish
Directions:
Preheat oven to 375 degrees F. In a large measuring cup or bowl, mix together chili sauce, pom juice, soy sauce, vinegar, lime juice, brown sugar and garlic.
Heat a large oven-safe skillet over medium-high heat and add olive oil. Season chicken with salt and pepper, then place in the skillet and sear on each side until deeply golden and brown, about 2 minutes per side. Remove chicken and place on a plate, turning heat in the skillet down to medium-low. Pour in pomegranate juice mix and whisk, allowing the sauce to bubble and simmer for 1-2 minutes. Place chicken back in the skillet and turn and toss to coat. Bake for 20-25 minutes. Remove chicken and serve with chopped parsley and pomegranate arils.
Recipe and photo from: www.HowSweetEats.com