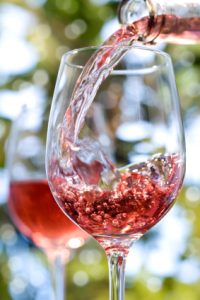 Summer's best wines are typically the ones in my glass, and yours, too, I hope. That's at least the way it should be, but how to find the best summertime wines is a matter of preference and each wine lover's ultimate quest for summer's ideal wine.
Chardonnay comes to many people's minds by default as Chardonnay is the most cultivated white grape variety worldwide, but there are so many more great summertime wines from which to choose. Sauvignon Blanc with its crisp, herbal edge and refreshing acidity gets two thumbs up. And why not consider Sauvignon Gris, the darker skinned, rounder, more aromatic relative of Sauvignon Blanc? Chile fashions exciting Sauvignon Gris, with Casa Silva and Cousino Macul two of the finest producers of the varietal.
Bordeaux offers a dizzying array of pleasurable summertime drinking, too, with white wines from 100% Sauvignon Blanc to blends containing Semillon, Sauvignon Blanc, Sauvignon Gris and Muscadelle. Chenin Blanc also deserves serious consideration as a summertime favorite. Vouvray Sec, the quintessential dry Chenin Blanc, from France's Loire Valley, makes a wonderful warm weather companion. Racauderie Gautier and Vigneau-Chevreau are two reliable high quality Vouvray producers, though South Africa also fashions first rate Chenin Blanc. The newly released Rustenberg Stellenbosch Chenin Blanc strikes me as an especially fine, affordable version of South Africa's premier white grape.
Torrontes, Argentina's flagship white varietal, offers more exciting summer drinking, especially if one enjoys pronounced aromatics and a touch of exotica in a wine. Areyna from the mountains of Argentina crafts an aromatic, well-balanced Torrontes that can be enjoined with or without food.
Some other summertime favorites include beautiful crisp Italian white wines such as Gavi and Vernaccia di San Gimignano. Massone's San Cristoforo Gavi and Le Calcinaie's Vernaccia di San Gimignano constitute perennial favorites because of their fresh natural flavors, which quench the thirst, please the palate, and refresh the soul. And what would summer be like without an invigorating glass of Provençal rosé? Not a very good summer at all. I think I will pour myself a glass of Domaine Blaïs Côtes de Provence Rosé and think about my next favorite best summer wine, the one in my glass. Enjoy!