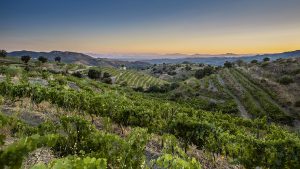 Nearly every wine drinker is familiar with Rioja and Ribera del Duero, the sources of Spain's great Tempranillo based wines, but there is more to red Spanish wine than Tempranillo and the ubiquitous Garnacha vines that seem to grow nearly everywhere in Spain. As wonderful as these individual grape varietals are on their own, much can be said for outstanding blends. Enter Priorat and Montsant, two of the oldest and most traditional of Spanish wines that deserve to be revered for their quality as well as their many unique personalities.
Priorat and Montsant (appellations as well as wines) remain off the beaten tourist track and are relatively unknown except to serious red wine lovers. Priorat is a sparsely populated wine region southwest of Barcelona at the very heart of Catalonia. The same obscurity can be claimed by the nearby appellation of Montsant that surrounds historic Priorat, the birthplace of Antoni Gaudi, the celebrated Catalan architect whose hand is imbedded in the skyline of Barcelona. Priorat is also a rugged, breathtaking landscape of savage beauty, high mountains, and sheep-studded pastures in which every village and hamlet appears steeped in history. Here the first Carthusian monastery in Spain was founded in the 12th century. And, during the 20th century, one of the greatest and most decisive battles of the Spanish Civil War took place in Priorat on the banks of the Ebro River. However, what sets Priorat above other more renowned wine producing regions is its expanse of ancient, ungrafted vines of Cariñena (Carignan) and Garnacha (Grenache) to which varying amounts of Cabernet Sauvignon, Syrah, and Merlot are added. What results are lush, full-bodied, natural tasting wines with considerable energy, power, and personality. Moreover, the best wines of Priorat age remarkably well and can compete with the finest wines made anywhere in the world
The central part of Priorat, often referred to as Priorat històric, is famous for its llicorella soil, a mixture of brown slate and solid rock. Here all of the Priorat's premium grape varieties thrive in the dry, continental climate that for all intents and purposes may as well be light years away from the nearby Mediterranean Sea, a mere twenty miles distant. However, no where on earth do Carignan and Grenache together express themselves with such force and dignity as in Spain's Priorat.
Montsant encircles Priorat and is demographically and legally part of the Priorat comarca or county. It is the appellation for the wine producing regions of the county that are not entitled to the Priorat (Denominación de Origen Calificada or DOC) designation. However, Priorat and Montsant share much in common. Montsant cultivates the same grape varieties as Priorat, and both Catalonian zones share a similar soil and climate; the main difference between them lies primarily in the predominance of llicorella soil in Priorat. The wines of Priorat are often a bit fuller and richer than those of Montsant, too, though Montsant can be easier to understand at the outset. Collectively, Priorat and Montsant share the propensity to over-deliver. For the moment, the wines of Montsant are typically less expensive than those from Priorat, but the price gap is rapidly closing, so now is the time to get acquainted.
Salud!
Don