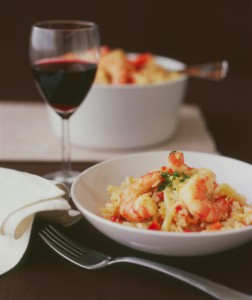 When beef, lamb, and game appear on the menu, red Bordeaux, California Cabernet Sauvignon (preferably with some bottle age), Châteauneuf-du-Pape, full throttle Spanish Tempranillos from Rioja, Ribera del Duero, or elsewhere, Super Tuscans, and thick rich Syrah based wines from Australia, California, or South Africa are likely to be my wines of choice.  I like to mix up what I drink with red meat.  When pork, pastas with thick tomato sauces, and spicy bean, sausage, or vegetable dishes are the order of the day, Carmenère from Chile, country reds from Spain, California Zinfandel, and of course a whole host of Italian reds will more often than not join me at table.  To be frank, I love good Carmenère that is made from physiologically ripe grapes.  It drinks well young, needs very little breathing time, and delivers more flavors for the money than almost any other varietal.  The best examples are great on their own or with simple dishes; however, not all Carmenères are created equal so sometimes I am disappointed.
While discussing preferences, it is fair to say that risotto is one of my favorite foods, and here I am quite particular about what I like to drink with risotto.  I can think of no better wine to accompany risotto than Barbera, Barbaresco, or Barolo from Italy's Piedmont.
Poultry, cream based pastas, salmon, soft cheeses, rare tuna or for just plain sipping, what wine beats Pinot Noir, and that includes red Burgundy and the finest California, New Zealand, and Oregon Pinots?  When Oregon experiences a good vintage, who offers better quality and value Pinot Noir than the top Willamette Valley producers?
A Votre Santé!
Don